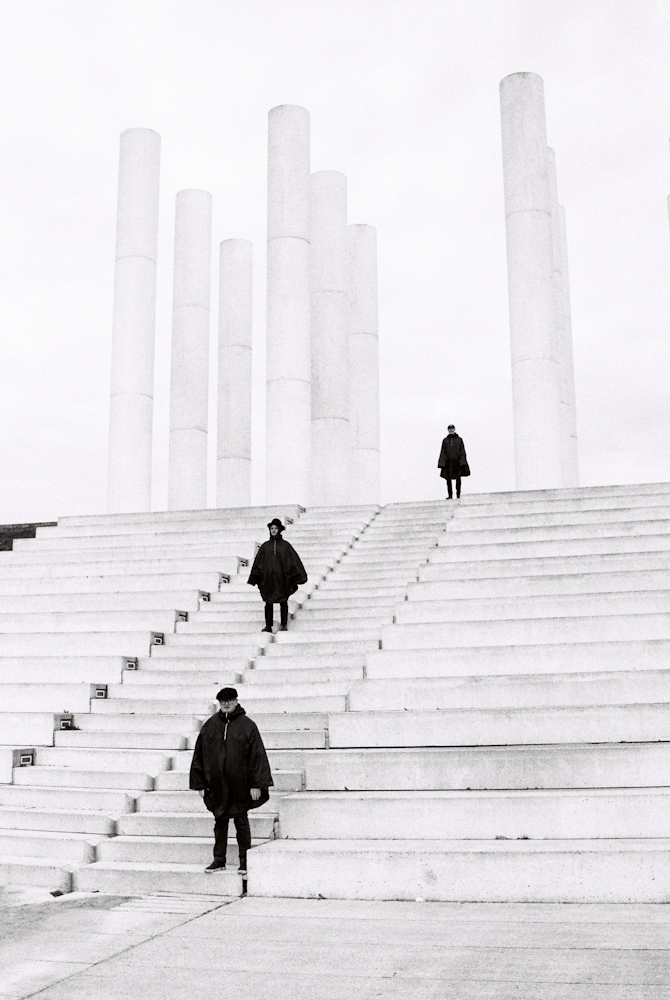 English Text Below
//////////////////
Ca devait arriver. Ils sont allés trop loin. A force de digger à rebours dans les bacs italo-disco, ils ont fini par remonter jusqu'à l'antiquité. Résultat, ça chante en latin. Pas le latin de cuisine de l'abominable Era, non non, du bon vieux latin des familles, qu'ils sont allés pomper chez Erasme, en débauchant une néo-latiniste pour séquencer ses adages proprement.
Ca chante en latin, donc, et ça chante beaucoup. Jusqu'ici Zombie Zombie poussait la chansonnette pour des reprises de Iggy Pop, Sun Ra ou New Order. Là, ils ont construit de longues progressions harmoniques, dans lesquelles se promènent Angèle Chemin, soprano rompue au contemporain barré, et Laura Etchegoyhen, couteau suisse d'origine basque qui avait déjà dirigé les choeurs sur la B.O. L'heure de la sortie (2019). On le sait, même si on n'a pas usé ses fonds de culotte sur les bancs d'une église : le latin ça se chante bien. Ca diphtongue sec dans le vocoder, et niveau prononciation, c'est pas l'approche pseudo-romaine qui a été choisie mais le latin à la française, sans chichis.
Aussi distingués qu'ils soient tous les trois, ils ont pas non plus fait leurs humanités chez les Jésuites. Leur nouveau label Born Bad n'a pas signé de partenariat avec la ligue de préservation des langues anciennes, alors on leur a posé la question : pourquoi ? "Envie de rester mystérieux, de passer des messages cryptiques, de se replonger dans une langue d'un autre temps, comme les moines copistes du Moyen Age". Et à la manière de leurs ancêtres encapuchés, ils font un peu ce qu'ils veulent avec les textes, et ils rajoutent des enluminures porno dans les coins, pour qui sait écouter de près.
Zombie Zombie a quinze ans, soit quatre-vingt dix piges en années-de-groupe (multiplier par six : plus qu'un chat, moins qu'un chien). Ca aurait été assez pour poser leur cul sur le transat de l'actualité musicale, avec un Old Fashioned dans chaque main. Mais non : ils se lâchent totalement dans une orgie doom grasse et réverbérée, et vas-y que je te mette du flanger sur la batterie. Les choeurs lorgnent du côté des arrangements de David Axelrod pour les Electric Prunes, ou du Ennio Morricone de Grazie Zia, avec des syllabes scandées qu'ils dispersent suprêmement rallentato sur plusieurs titres (Lacrymosa, Consortium). Bref cet album prend des risques.
Donc non, Vae Vobis c'est pas la fête du banger à 122 bpm, même si on se réjouit d'avance de voir ce qu'un DJ fera de Nusquam et Ubique avec une foule ivre en toge tie-and-dye. C'est un album homogène, qui gagne à s'écouter d'une traite en se souvenant que la patience paye, car chaque track est un faux-ami. Ring Modulus, par exemple, qui, sous sa structure carrée abrite de petites saillies en « technique vocale étendue » cachées dans le mix. Ou Aurora, joyau mégalo taillé dans le marbre pour un amphithéâtre romain un jour de jeux du cirque, où les cuivres du Dr Schönberg et de Etienne Jaumet se la jouent peplum, et où les percus martiales sont jouées par des colosses en sandales. Pour mesurer leur démesure, il faut prendre au sérieux ces folies, comme on le dit en architecture des maisons pour lesquelles le commanditaire a dit "carte blanche, fuck my shit up".
Album de rupture après plus de dix ans chez Versatile Records ? Immense foutage de gueule distancié à la Andy Kaufman ? Incunable discographique né dans l'angoisse du confinement ? Peu importe : on y retrouve tout ce qu'on aime dans Zombie Zombie, à commencer par ce savoir-faire musical qui fait prendre des vessies pour des lanternes. On a cru qu'ils avaient embauché un bassiste sur Erebus, et non, c'est encore et toujours du synthé (SH-101). Les vocoders omniprésents sont poussés dans leurs retranchements. Sax, trompette et percus viennent colorer encore un peu plus cet album tout fou dont la pochette apocalyptique et sereine est signée Druillet / Avramoglou.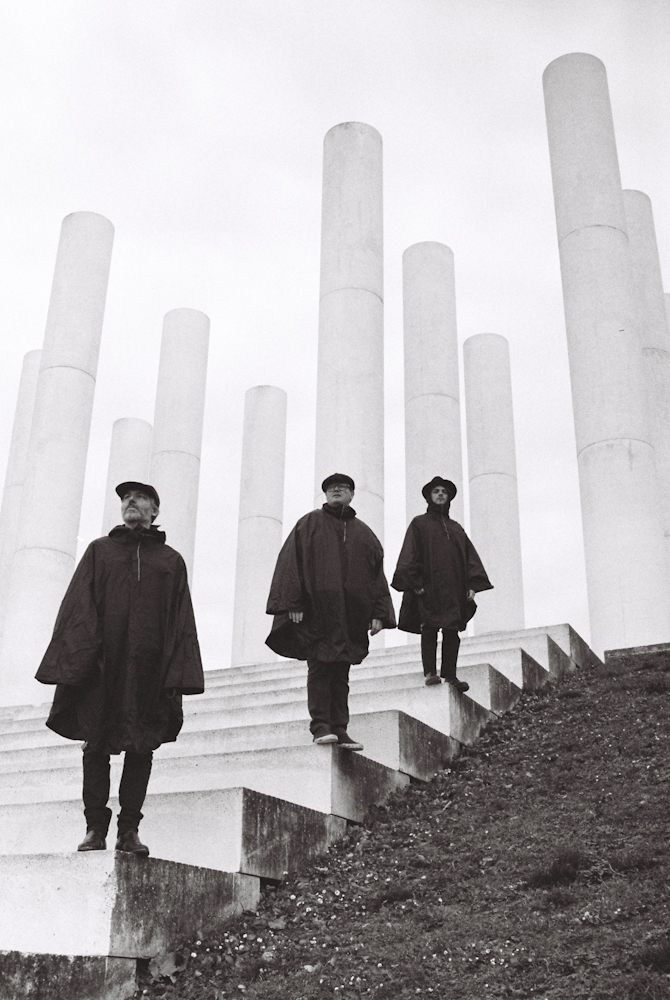 On savait bien que sur les platines de Cosmic Neman, c'est le gangbang permanent, et que la synthèse des goûts musicaux du trio couvre à peu près 95% des styles répértoriés par Discogs. Donc on est pas surpris d'apprendre que la référence black metal / doom est assumée : "on s'était retrouvés à jouer dans un festival de black metal en Californie, où l'on était les seuls blanc-becs sans tatouages ni cheveux longs ni perfectos, mais nous on reste dans un rituel complètement païen". On constate qu'ils n'ont emprunté au genre que ce qu'ils ont bien voulu garder. C'est un hommage structurel complètement libre, un regard oblique comme dirait Etienne Jaumet.
Ce disque peut contenir des traces de doom, on est prévenus. Pour autant, il ne faut pas s'attendre à des singeries scéniques à base de pentacles en faux-sang, de bougies et de chorégraphies en robe de bure, c'est pas le genre de la maison. On a dit "prenez cet album au sérieux", pas "entrée gratos sur présentation d'un bouc décapité" (mais essayez quand même, sur un malentendu ça peut marcher). Dans cet objet décidément lyrique, chaque morceau rue dans les brancards et offre une plateforme pour de grosses envolées (Dissolutum avec un épique solo de batterie gentiment flangée like it's nine-ty-six-ty-nine).
C'est peut-être la diète forcée du confinement qui parle, mais on sent qu'ils ont envie de la jouer, cette musique. On entrevoit bien la future tuerie à la fin de War is coming, mixé dans le rouge brique par Laurent de Boisgisson au studio One two Pass it, à Bagnolet. Il y a de l'espace dans les compos, ça bat au fin fond du temps, comme ils savent faire, dans des morceaux en majorité plutôt courts, mais remplis d'idées, qui devraient s'épanouir sur scène (en espérant que les salles leur permettent de faire venir les brillantes choristes).
Vae Vobis, mort à vous, Vae Victis, mort aux vaincus. Les sans-dents qui ont pas su traverser la route pour trouver du boulot ? Non, "un sort jeté" aux dominants. Dans la langue de l'Empire, ça parait cohérent.
Consortium te amat, veni ad Consortium : le consortium t'aime, viens à lui. On a bien envie de prendre sa carte de membre.
Halory Goerger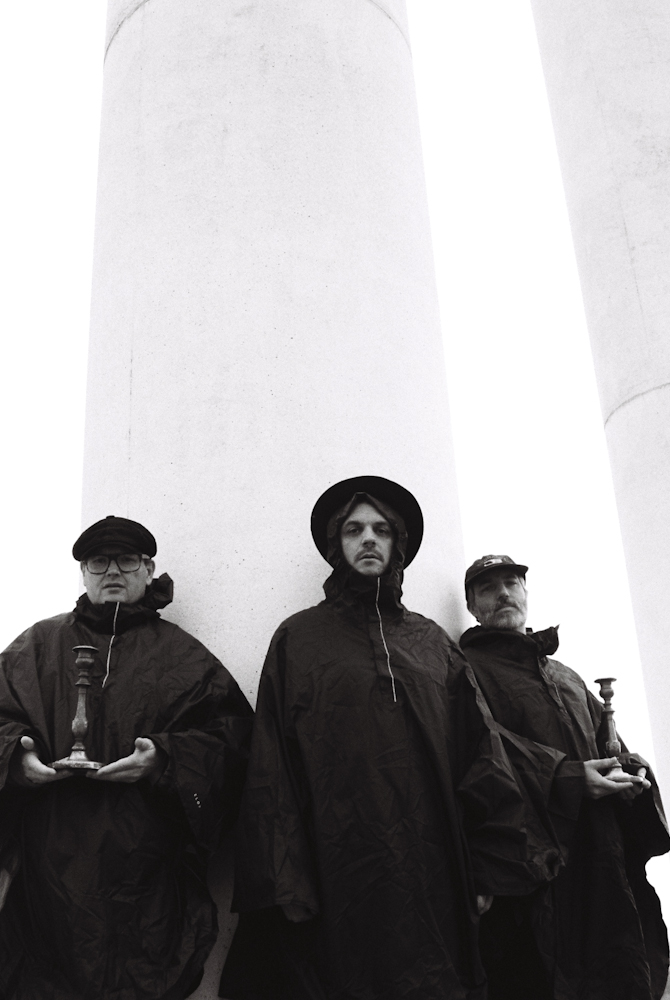 //////////////////////////////////////////
It had to happen. They've gone too far. Digging backwards in the italo-disco crates, they ended up in antiquity. As a result, they sing in Latin. Not the godforsaken mumbo-jumbo of the new age band Era. Proper Latin, borrowed at Erasmus, by hiring a neo-Latinist to sequence the adages neatly.
It sings in Latin, and it does a lot. Until now, Zombie Zombie mostly pushed the song for covers (Iggy Pop, Sun Ra or New Order). For this new album, they built long harmonic progressions, along which sing Angèle Chemin, a soprano familiar with contemporary music, and Laura Etchegoyhen, Swiss army knife of Basque origin. You know it, even if you haven't worn out your bottoms on the pews of a church : Latin sings well.
As distinguished as the trio is, they did not go to faith schools either. As far as we know, their new label Born Bad did not start a partnership with the Ancient Language Preservation League, so we asked : why?
"We wanted to remain mysterious, to send cryptic messages, to dive back into a language from another time, like the copyist monks of the Middle Ages". And like their hooded ancestors, they do whatever they want with the text, and add porn illuminations in the corners, for those who know how to listen closely.
Zombie Zombie is fifteen years old, or 90 years in group-years (multiply by six: more than a cat, less than a dog). That would have been enough to rest on their laurels, with an Old Fashioned in each hand. But no: they went for full-on fat and reverberated doom orgy. Choirwork hints at the arrangements of David Axelrod or Ennio Morricone, with chanted syllables that they scatter 33+8 – style on several titles (Lacrymosa, Consortium). This albums gambles hard.
Decidedly, Vae Vobis is not your average 122 bpm banger party, although we are looking forward to seeing what a DJ can do with Nusquam and Ubique on a drunk crowd in tie-and-dye gowns. It's a well-balanced album, worth listening to in one go, to let each trap-of-a-track work its magic. E.g. Ring Modulus, which, under its strong structure, houses extended-vocal-technique ornaments. Or Aurora, a megalomaniac jewel cut to open the circus games. The brass section of Dr Schönberg and Etienne Jaumet plays it peplum style, along martial percussions banged on by big dudes in leather sandals. To measure the excess, we must take seriously these pleasure palaces (as one calls those houses for which the architect was told "carte blanche, fuck my shit up").
A disruptive album after more than ten years at Versatile Records ? An oddity born in the anxiety-fueled lockdown ? No matter: there's everything we love about Zombie Zombie, starting with their musical know-how. We thought they'd hired a bass player on Erebus, and nope, synth again (SH-101). The ubiquitous vocoders are pushed to their limits. Sax, trumpet and percussion come and add color to the record, whose cover, gently apocalyptic and serene, is signed by Druillet / Avramoglou.
We know too well that on Cosmic Neman's turntables, it's always gangbang time. The trio's musical tastes covers 95% of the styles listed by Discogs. So it's no
suprise that the black metal / doom reference is absolutely assumed: "we found ourselves playing in a black metal festival in California, where we were the only tenderfoots without tattoos, long hair or perfectos. But what we offer is more of a pagan ritual."
May contain traces of doom : we have been warned. However, on stage, do not expect antics based on gowns and fake blood pentacles. We said "take this album seriously", not "free admission with a headless goat". Each piece is a launching platform for big lyrical flights. It may be the forced lockdown diet trauma that speaks, but we feel that they just want to play this music. You can get a glimpse of the slaughterhouse stage madness at the end of War is coming, hard-hitting the red thanks to Laurent de Boisgisson, who recorded and mixed at studio One two Pass it, in Bagnolet. There's space in the compositions : drums beat from the depth of time, as they would, in rather short pieces that will flourish on stage (hoping that the venues let them bring in the brilliant choristers).
Vae Vobis, woe to you, Vae Victis, woe to the vanquished. Who would that be ? The wretched outcasts of our society ? No, "a spell cast on the dominants". In the Empire's lingua franca. Seemed appropriate.
Consortium te amat, veni ad Consortium : the consortium loves you, come to him. Get your membership card now.
Halory Goerger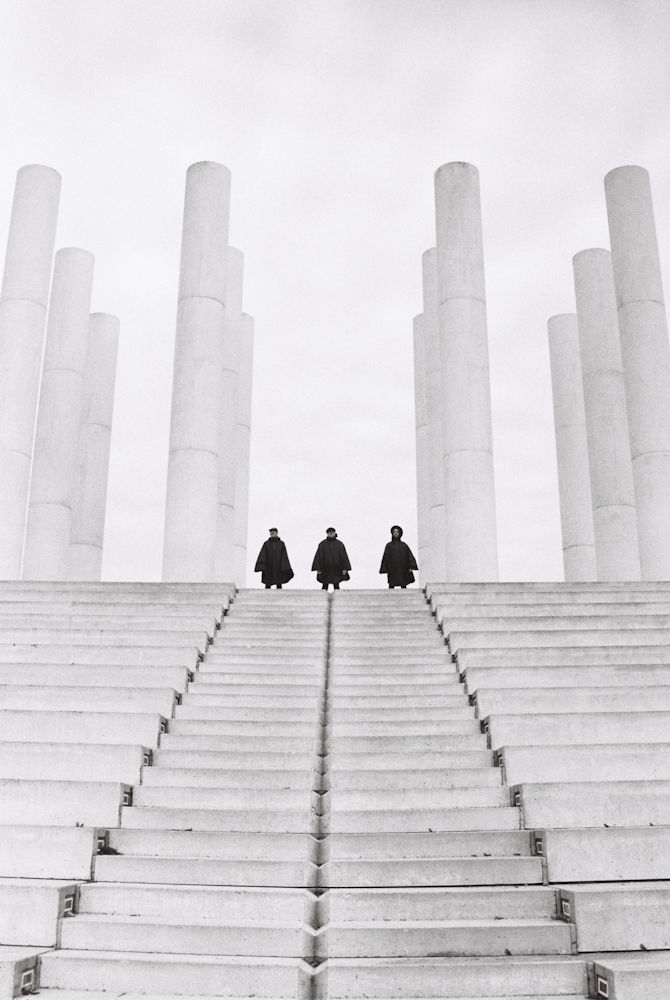 Photos: Camille Bokhobza
All Music composed & played by Zombie Zombie (electronics, drums, percussions, vocoders)
All Lyrics written in latin & english by Zombie Zombie (with the great help of Virginie Leroux)
Zombie Zombie is : Etienne Jaumet- Cosmic Neman-Dr Schonberg
Doomed angels choir: Angèle Chemin, Laura Etchegoyhen, Lena Woods, Sibylle Chalamon, Klaar Frankenberg
Latin muse : Virginie Leroux
Recorded & mixed by Laurent de Boisgisson in 2021 at One Two PAss It studio in Bagnolet, France
Mastered by Jeremy Henry at La Villa mastering, Montreuil
Cover concept by Avramoglou/Garcia
Artwork by Druillet/Avril/Avramoglou
Produced by Born Bad records
Thank you to JB Born Bad for making this record happen during these difficult times.
A huge thanks to Galerie Barbier, Philippe Druillet & François Avril, for letting us use some of the art from the Apocalypses exhibition by Philippe Druillet/François Avril in Paris, spring 2020.
Many thanks to our families & friends, Tiphaine, Ornette, Charlottes, Pauline, Laurent de Boisgisson, Dimitri Avramoglou, Emmanuel Garcia, Matthieu, Sylvain & Lucas for the good vibes at the studio, Kim Franju for the studio pics, Angy Laperdrix, F/LOR, Pascal Tippex, Sonic Boom & SAMO.
And we'd like to thank everyone involved for their patience..!
« Consortium te amat, veni ad Consortium »