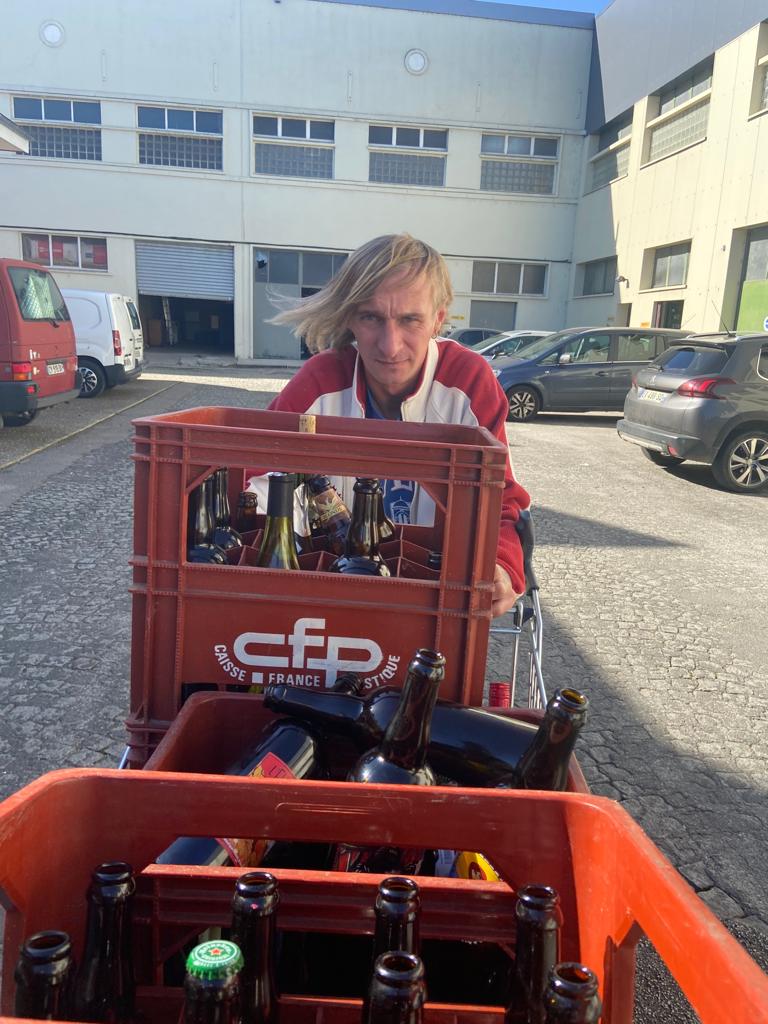 -ENGLISH TEXT BELOW-
Couleur Brique, troisième disque d'Usé sorti chez Born Bad, s'ouvre sur une quinte de toux glaviot + piano, tandis qu'une guitare vomit sa trachéite dans le fond du hangar. Les amateurs retrouveront l'ambiance "amphéta-amphéta-amphétamine", pour nous parler du "chef d'é, du chef d'é, du chef d'é-tat". On ne saura pas ce qu'il avait à lui dire, à Emmanuel, mais il en reste un peu sur son fute.
Dans cet album, il s'agit comme souvent chez Usé, de chanter comme on cogne. De tabasser la caisse claire pour évoquer un crush qui mord et griffe et crache, de se tamponner, de se défoncer. Mais on s'aime beaucoup dans ces sept chansons, qui évoquent des romances bi-goût bière-cachets qui se finissent dans des fourgons aménagés, au fond de la zone autonome temporaire de nos culs.
On appréciera l'effort mélodique qui poursuit l'entreprise initiée dans le précédent LP, Selflic, porté par quelques couches de synthés tantôt aigres, tantôt clairs, et une prestation vocale assumée. De l'élan hargneux du mec en chien dans la ducasse, à la fin de soirée dans un estaminet crade, c'est une rando bière à la main, où saillent de petites fulgurances qui font mouche.
La transe suante obtenue tient, c'est entendu, à une énergie de batteur brisé, mais elle s'appuie sur un effort d'écriture constant dans le disque, qu'on pourra chanter collés- serrés dans les friches, pour lutter contre le seum ambiant.
Rangé des voitures question politique, Nicolas Belvalette fait désormais l'acteur, dans un court devenu long, "tout fout le camp" de Sebastien Betbeder, où il interprète son propre rôle, en vadrouille sur son turf.
beau bizarre, qui se crache sur les têtons en rampant sous les barrières devant un public en nage. Il faudra acheter le disque si on veut les paroles, parce qu'en concert c'est dur de suivre quand on est occupé à déterminer si c'est la sueur, la pisse ou l'alcool qui fait office de surface de contact avec ta voisine de concert. Chez Usé tout se vaut : corps souillés / corps soudés, même combat.
Recueil de rengaines d'automne pour se mettre bien, et s'endormir sur le comptoir en confiance, Couleur Brique fait le lit de futurs concerts mémorables. Les draps sont sales mais ils ont été repassés avec soin.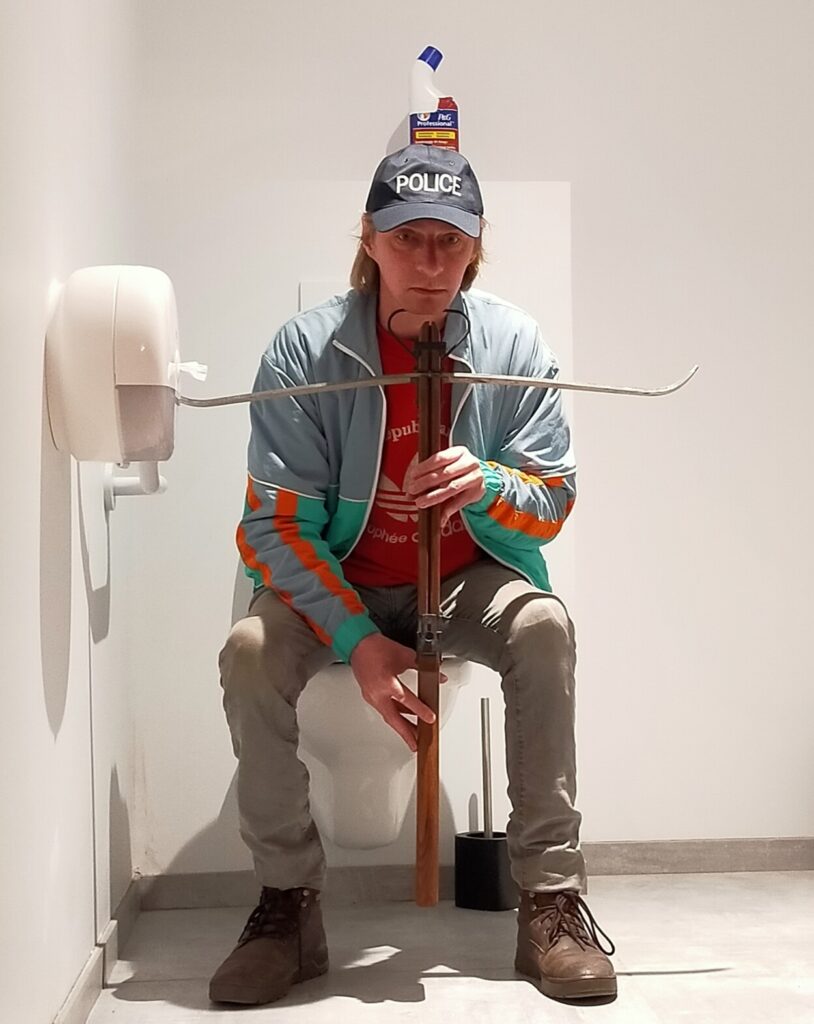 ////////////////ENGSLIH//////////////////////
Couleur Brique, third album released by Born Bad for one-man-operation Usé, opens with a coughing fit spurting on a piano, while a guitar gently dies in the back of a hangar. The connoisseur will rekindle fond memories of his underground hit "ampheta-amphéta- amphétamine", this time to warn us about the "chef d'é, chef d'é, chef d'é-tat". We won't know what he had to spit about to the president, but he's got some left on his trousers.
Usé literally punches songs, beating the snare drum to celebrate a lover that bites and claws. It's mostly about boy-meets-girl and tough love in these seven romances that taste like beer chasing uppers, and end up in the back of a van.
Praise be, to the melodic effort, supported by layers of sharp and bitter synths, and a straightforward vocal performance. It's a ride in forsaken land, beer in hand, documenting horny guys at the fun fair, late evenings in a shabby pub, and dirty sheets. Here and there, when least expected, flashes of unpretentious drunken wisdom hit the spot.
The record is fueled by the broken drummer's energy, but also a verified writing effort. Those songs will be sung, bonded in the wastelands, to fight against buzzkill.
Once active in local politics, Nicolas Belvalette settled down for acting, recently starring in "Tout fout le camp" where he plays his own role. But he's at his best on his turf, small rooms and scroungy festivals, where the great romantic weirdo spits on his tits, crawling under a raving audience. You'll have to buy the record if you want to get the lyrics, because at a gig, it's hard to follow when you're busy figuring out whether it's sweat, piss or beer that's connecting you to your neighbor.
A fine collection of autumn tunes to get wasted, start a bar fight with new friends, and fall asleep on the counter with no shame.