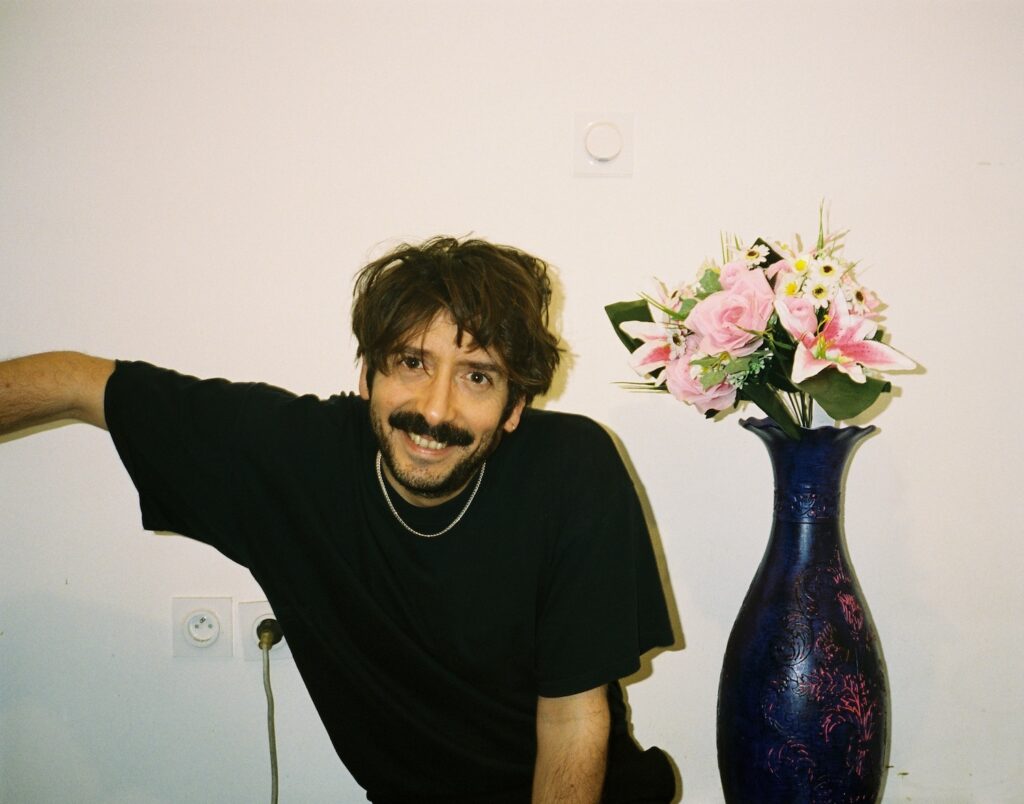 ///////ENGLISH TEXT BELOW//////////
Seul pour la nuit, il est le dernier homme. A peu près un tiers de ses posts, c'est pour prévenir qu'il a perdu son téléphone, ou cru voir un chien se faire un sandwich.
Paul Ramon (Bryan's Magic Tears, la Secte du Futur) a trouvé le temps de finir un deuxième album dans lequel le rare bordel du premier a eu le temps de coaguler. Précédé par une réputation d'ingérabilité Defcon 1 tout en étant visiblement capable de se tenir, on est pas surpris de trouver le même niveau de paradoxe dans "Buvez le poison".
Si on fouille à corps le disque, on trouve toute la pharmacopée musicale des quarante dernières années. Ca roule à 30 sur l'autoroute (Hacienda, dub de descente avec basses abusées) et à 90 en ville (les victimes du roi, hallu fantasy-médiévale arpégiée). Pleasure Principle a décidé que le code de la route s'appliquait pas à son véhicule. Chant en français ni beuglé ni chuchoté, guitares tantôt highlife, tantôt caraïbes, synthés 90, moments MTV à la vulgarité étudiée, traces de tout, traces partout. Chanteur par obligation, de son aveu même, il s'exécute en scandant ses textes avec la morgue tête-à-claques du chanteur de Ludwig Von 88 en stage de 3ème à Manchester. Content d'être là, mais il voudrait pas que ça se sache. L'air de pas y toucher, Paul Ramon a tiré la langue pour écrire, et il enchaîne généreusement les one-liners de jeanfoutre : " si tu veux fuir le monde l'élégance est de mise", "c'est dans le déni que je m'épanouis." Autant de rasoirs jetables de qualité NF qu'on a hâte de le voir sortir de ses poches en scène, pour saigner tout le monde (en galérant un peu, forcément).
Au mix, Marc Portheau transforme l'essai : ainsi Héliopolis, jam psyché-pop en tunnel plein de delay, se chiade en loucedé pour ajouter choeurs et vents d'autant mieux amenés (Olivier Demeaux, Romain Vasset) qu'ils n'avaient pas prévenu qu'ils passeraient.
Une vraie chausse-trappe, cet album. La punition commence : texte en prose, on attend une ambiance de donjon et des aveux fétides, mais finalement ça remue les bras en l'air, en piétinant le cadavre de la dance pop à synthé décérébré, circa 1995. "Frappe le cuir" paye son hommage aux Happy Mondays, on aurait pu s'y attendre vu le pedigree du batteur, mais c'est chanté dans une ambiance Négresses Vertes. Même "Buvez le poison" et "la sieste", campagne de promotion pour les stups en deux temps – un qui claque et un qui chaloupe- qui mérite direct un signalement, contient son antidote pour qui sait écouter. Et dans Rêves, morceau plutôt estival à accords, c'est la guitare solo fuckée à souhait par les effets qui vient foutre le zbeul et donne des indices du degré de déreliction du climat.
Alors quand on tombe sur Plein de rancoeur je vis mon meilleur moment, tentative réussie de refaire "Loser" en moins littéral en 2022, on se dit que vraiment, c'est attachiant, mais Pleasure Principle sait très bien ce qu'il fait. C'est pas un collage, on est dans les couleurs non miscibles, de celles qu'on étale pour les regarder se côtoyer lascivement sans jamais se mélanger, en souriant bêtement, le cerveau bien niqué comme il faut.
Halory Goerger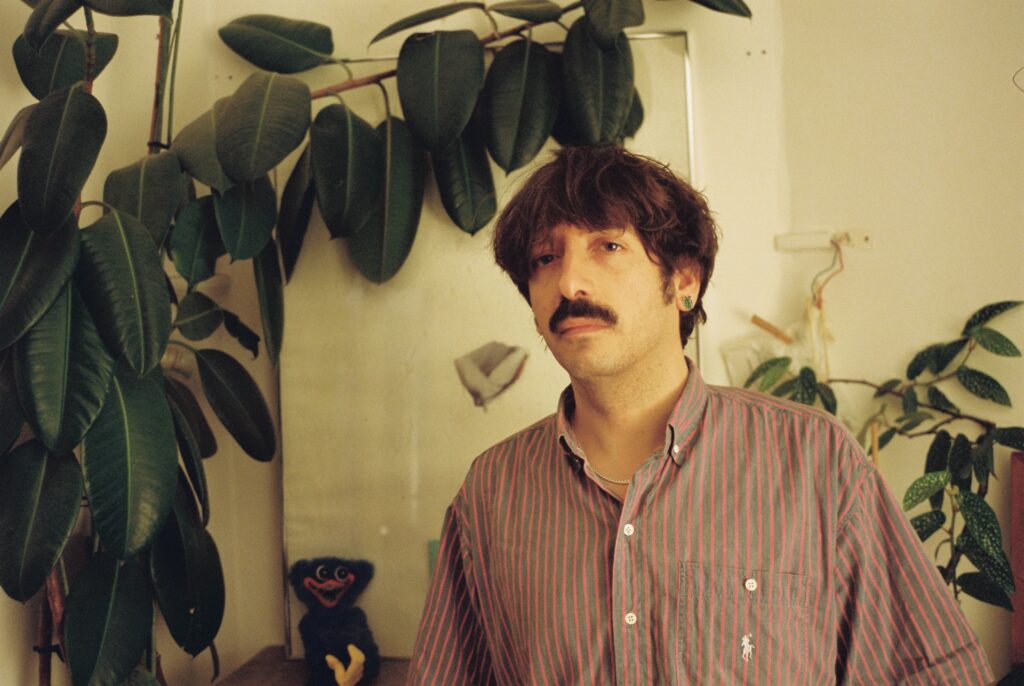 ////////////////ENGLISH/////////////////////
Two social media posts out of three are about losing his phone, the last one is about him swearing he saw a dog making himself a sandwich. Paul Ramon (Bryan's Magic Tears, la Secte du Futur) has managed to finish his second solo album, "Drink the Poison."
Preceded by a reputation for being Defcon 1 – level unmanageable on tour, while obviously being able to hold his own, it's no surprise to find the paradox in his music. Body search the record and you'll find chemical faves of the last forty years. Paul Ramon is doing 20 on the highway ("Hacienda", downhill dub with over-the-top bass), and 60 in the city ("Les victimes du roi", arpeggiated medieval-fantasy trip). Pleasure Principle obviously decided that traffic regulations just didn't apply to his vehicle. Sung in french (neither bellowed nor whispered, thanks), highlife guitars travelling light via the Carribeans, 90's synths stabs, calculated MTV moments : traces of everything, traces everywhere.
A singer by obligation, by his own admission, he performs with a cheeky Madchester University alumni attitude. Happy to be there, but wishes nobody knew. Paul Ramon stuck his tongue out to write : he deals generously in one-liners, as sharp as disposable razors. Can't wait to see him pull those out of his pockets, struggling to bleed everyone. Marc Portheau saves the day in his mix : "Heliopolis", psych-pop jam lost in heavy delay, could have gone astray but suddenly gets all sophisticated with winds and chorus – as much appreciated as they never RSVP'd (Olivier Demeaux, Romain Vasset).
This is a bear trap of an album. "La punition commence" (the punishment begins) and we expect a synth-wave dungeon moist with whispered confessions, when in fact it's more about wiggling arms in the air, and trampling the corpse of dance-pop to the sound of brain-dead synth, circa 1995. "Frappe le cuir" pays homage to the Happy Mondays, which you'd expect given the drummer's pedigree. "Buvez le poison" and "La sieste", a barely legal promotional campaign for narcotics, contain more than you asked for, if you can only listen. And "Rêves", chord-driven summer track gets turned over by the effects-laden guitar solo. Traps, again.
So when you get to "Plein de rancoeur je vis mon meilleur moment", successful attempt to remake "Loser" in 2022, you'll know that Pleasure Principle knows his business in a rather endearing way. This is not a collage, but tie and dye colors spread to be looked at, rubbing each other lewdly. Enjoy.
photos Raphael Berrichon