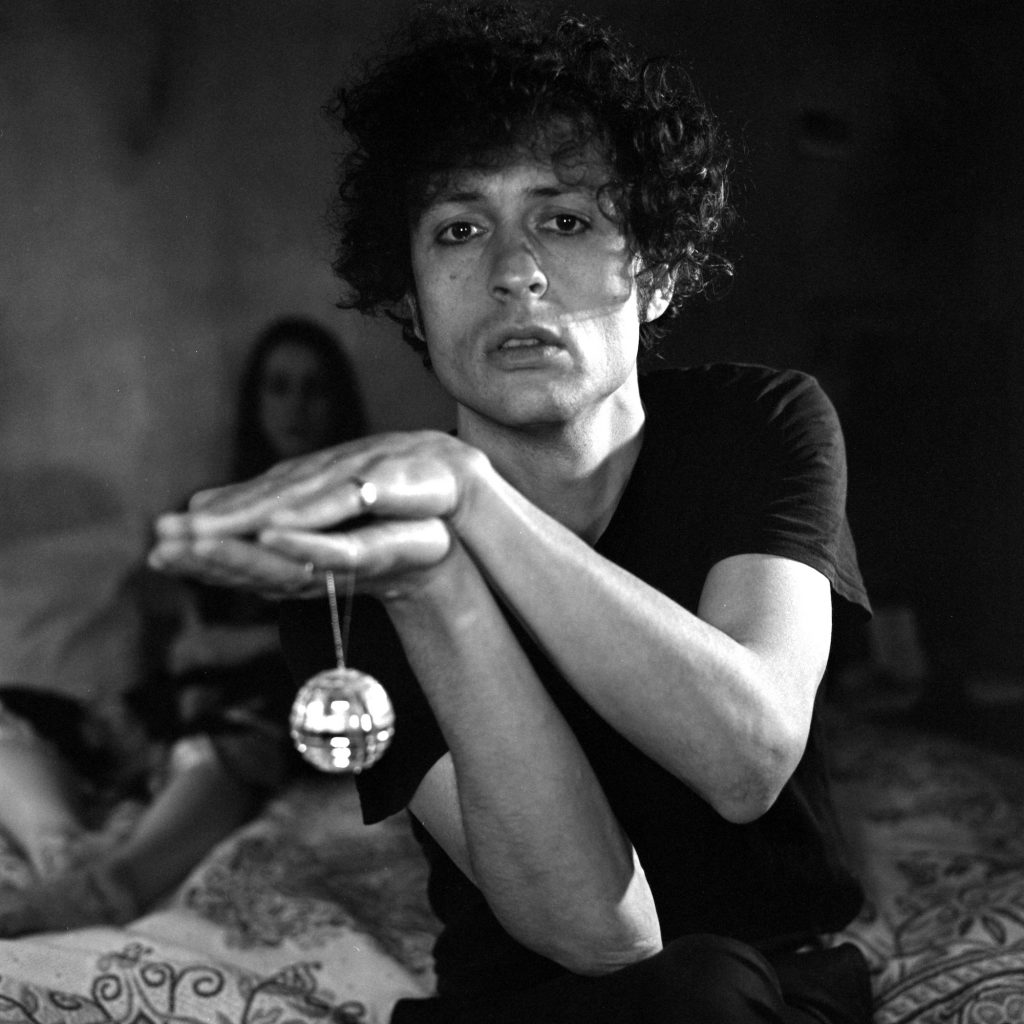 La passagère s'est installée à l'intérieur de ton corps, et tu ne sais plus si c'est arrivé hier où si elle était là depuis toujours.
Sa chevelure rousse irradie ton sang quand depuis la chambre jaillissent les rires et les chants.
Le vaisseau tremble puis se cambre lorsque le parasite amoureux te mort la nuque.
Dans le miroir, des gencives rouge vif, des dents laiteuses.
Le visage qui te fait soudain face a repeint la ville entière et empoisonné la source.
L'orchestre des fantômes insistants voulait enregistrer un disque de Bob Dylan qui sonne comme l'album « The Idiot » d'Iggy Pop. Cependant que vous déliriez dans un aquarium de fumé à l'intérieur d'une voiture aux vitres scellées.
Une fois l'épave abandonnée dans le fossé nous avons pris la mer pour la Californie.
Sur le pont, le virus de la passagère donne chair à ta silhouette étoilée.
Je vous aime encore plus l'un et l'autre.
Aujourd'hui.
Second album de MARIETTA, « La Passagère » fait suite à « Basement Dreams Are The Bedroom Cream » (Born Bad Records, 2015), un disque très bien accueilli par Liberation, Les Inrockuptibles, Magic, New Noise et Noisey.
Après avoir tourné avec son groupe pendant deux ans et donné des concerts remarqués à Villette Sonique, Rock en Seine, Levitation Festival, Musiques Volantes, Bars en Trans, Guillaume Marietta, lauréat du Fair 2017, revient avec neuf chansons écrites, pour la première fois, en français.
– L'enregistrement à eu lieu à Los Angeles par Chris Cohen (auteur compositeur et producteur de génie ayant sorti deux albums chez Captured Tracks et qu'on a pu croiser au sein de Deerhoof et de The Curtains).
– Le mix a été confié à Kenneth Gilmore (membre permanent des Haunted Graffiti d'Ariel Pink) qui a également mixé « My Dreams Dictate My reality » de SOKO ou encore « Front Row Seat To Earth » de Weyes Blood.
Un disque charnel, sensuel, mélancolique et halluciné, irrigué par les figures de la femme, de la ville moderne, de l'abandon, de la paranoïa et de la rédemption.
« La Passagère » habité par les fantômes de Syd Barret et de Lou Reed fait également écho aux productions contemporaines d'artistes comme Kurt Vile, Cate Lebon, Tim Presley, Kevin Morby et bien sûre Chris Cohen.
/////////////////////////////////////////////////////
"The passenger has set up camp inside your body, and you can't remember if it happened yesterday or if she's always been there.
Her crimson hair irradiates your blood as chants and laughs spill from the bedroom.
The vessel shudders then arches as the loving parasite bites the back of your neck.
In the mirror, bright red gum, milky teeth.
The face that suddenly eyes you has painted the town over and poisoned the source.
The orchestra of persisting ghosts wanted to record a Bob Dylan album that would sound like Iggy Pop's The Idiot.
All the while, you were delirious in a smoke-filled aquarium in a car with its windows sealed.
Then, the wreck abandoned in a ditch, we took the sea towards California.
On the bridge, the virus of the passenger gives her flesh to your starry silhouette.
I love you even more, the both of you.
Today."
Sophomore album by Marietta, La Passagère follows Basement Dreams Are The Bedroom Cream (Born Bad Records, 2015), which was lauded by French daily newspaper Liberation, magazines Les Inrockuptibles, Magic, New Noise and online magazine Noisey.
After touring with his band for two years and playing well-received concerts at Villette Sonique, Rock en Seine, Levitation Festival, Musiques Volantes, Bars en Trans, laureate of leading French development prize Fair 2017 Guillaume Marietta has come back with nine songs written in French for the first time.
The album was recorded in Los Angeles by Chris Cohen, singer-songwriter and producer extraordinaire, with two albums signed on Captured Tracks and past member of Deerhoof and The Curtains.
Mixed by Kenneth Gilmore, permanent member of Ariel Pink's Haunted Graffiti, who counts in his mixing catalogue Front Row Seat To Earth by Weyes Blood and My Dreams Dictate My Reality by SOKO.
A carnal, sensual, hallucinating and melancholic record, fed by representations of the woman, the modern city, self-abandon, paranoia and redemption.
La Passagère is inhabited by the ghosts of Syd Barret and Lou Reed, and nods to contemporary productions by Kurt Vile, Cate Lebon, Tim Presley, Kevin Morby, and of course Chris Cohen.