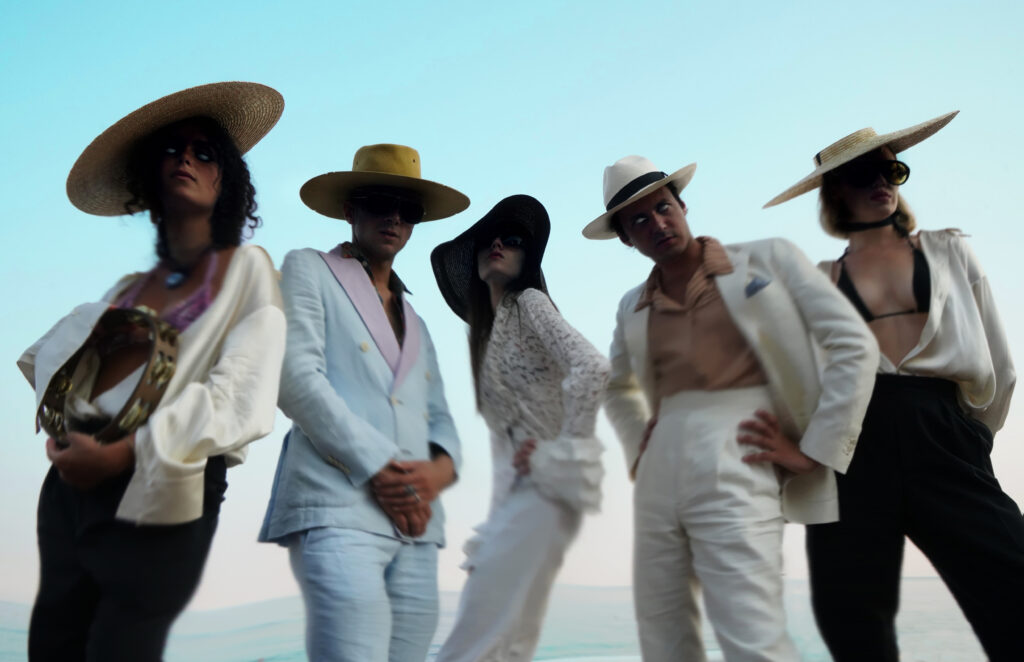 /////////////////FRENCH VERSION BELOW///////////////////
As they are currently touring around Europe and recently ended their sold-out US tour, french psycho indie rock band La Femme announces the release of 'Teatro Lucido', a new studio album entirely sang in spanish, on November 4th.
For the occasion, the band releases the video for 'Sacatela', the first single taken from Teatro Lucido. A very classy and colored video shot in Nice, South-West of France, that features all the members of the band. Directed by french director Ilan Zerrouki, the video is about unacknowledged desires and unpursued dreams, also called 'Sacatelism'.
Sacatela has been played all summer long on few radios over the US, Mexico and France and is already a streaming success.
La Femme already counts 2 gold record in France and a Victoire de la Musique, as well as dozens of tour internationally, notably in the US, in Mexico, in Asia and in Europe. They are part of the few french artists that succeeded abroad while singing in french.
As they played so many times around LATAM and Spain, the band had written a spanish song called 'Le Jardin' on their previous album Paradigmes, and the inspiration brought them to create a full album in Spanish, that they wrote, composed and produced themselves as for all their previous albums, inviting numerous female singers. The album has found birth through their adventures in Seville, Grenade, Madrid, Mexico City, Cuautepec, Padul… where they had so many moments of laughs and joys, tears and disappointment.
The album is the result of so many inspirations, as the Semana Santa, Inspiration for this album has also been found during the famous Semana Santa in Spain, and through pasadoble, reggaetone, brasilian and andalousian rythms, classic guitars, and movida of the 80's.
'Teatro Lucido' is the name of a mythic theatre where they played many times in Mexico and that has largely inspired them, and is the very first album from a thematic series called "Collection Odyssée".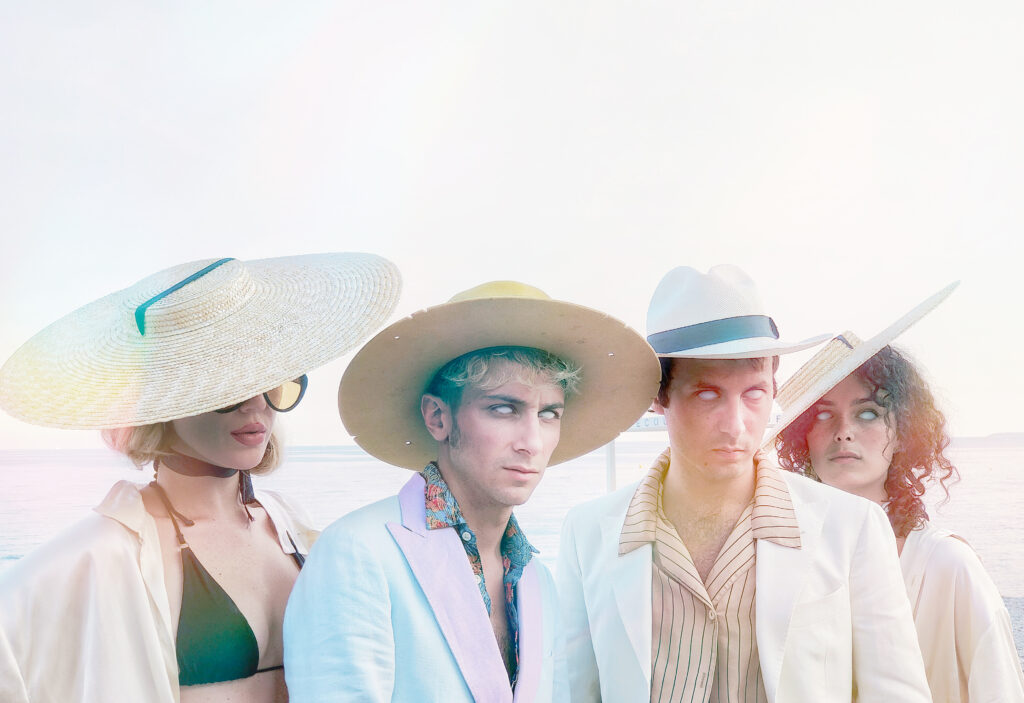 `/////////////////FRENCH VERSION//////////////////////
Après une tournée sold-out aux US en juin et alors qu'ils poursuivent actuellement leur tournée de festivals à travers l'Europe, La Femme annoncent la sortie d'un nouvel album, quelques jours avant leur concert sur la grande scène de Rock En Seine. Et en profitent pour dévoiler le clip de leur premier single 'Sacatela', qui fut tout l'été en playlist sur France Inter, Nova et FIP et connaît déjà un succès en streaming.
Un clip élégant, frais et coloré tourné à l'Hôtel Amour de Nice, avec l'intégralité des membres du groupe. Réalisé par Ilan Zerrouki, le clip dépeint une allégorie des désirs inavoués et des rêves inachevés, le "Sacatelisme".
Forts de 2 disques d'or, d'une Victoire de la Musique et de nombreuses tournées en Europe, aux USA, en Amérique du Sud et en Asie, La Femme fait partie des quelques artistes français qui ont su s'exporter en chantant dans leur langue natale.
Ils livrent pourtant cette fois un album entièrement interprété en espagnol: Teatro Lucido est un carnet de voyage inspiré de leurs périples en pays hispaniques et notamment en Espagne et au Mexique. Un cocktail détonnant né de leurs aventures et de leurs histoires lors d'excursions à Séville, Madrid, Grenade, Mexico City, Cuautepec, Padul… des joies et des rires, des larmes et des déceptions, des paysages, des rencontres, du drame, des sentiments, des ferias et toujours pour fil conducteur, des musiques, celles qui ont inspiré le Teatro Lucido.
Sur leur dernier album Paradigmes paru en 2020, le titre 'Le Jardin' initiait déjà ce travail d'écriture en langue espagnole. Marlon Magnée et Sacha Got, les deux leaders et fondateurs du groupe ont comme à l'accoutumée écrit, composé et réalisé les 13 titres de l'album, invitant de nombreuses interprètes féminines.
Teatro Lucido tire son nom d'un lieu emblématique de la ville de Mexico où le groupe a eu l'occasion de séjourner plusieurs fois, et qui les a largement inspiré: une sorte de théâtre bohémien des années 1900 à la croisée des arts, qui transpire la liberté et la créativité.
L'album puise également ses inspirations dans les marches de la Semana Santa, le pasodoble, le reggaetone et les rythmes brésiliens, les guitares classiques, les rythmes andalous, les castagnettes, les trompettes ou encore la movida des années 80. Le groupe a puisé dans ce large spectre de sonorités qui les a marqué, et en sert sa propre interprétation.
Il sera le premier d'une série d'album thématiques intitulé 'Collection Odyssée'.