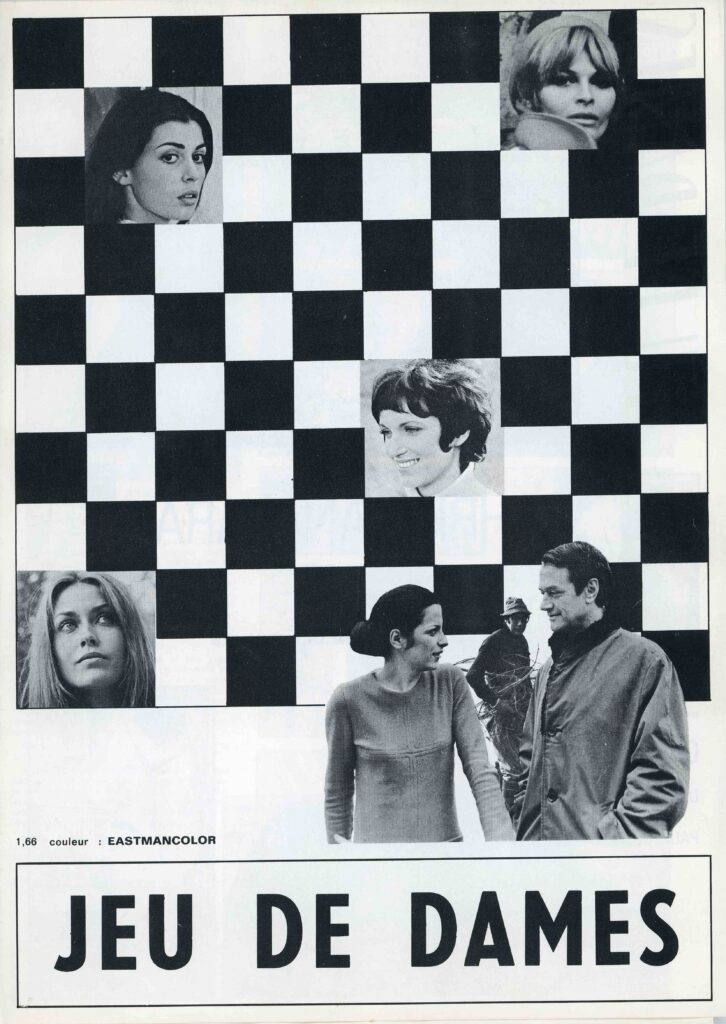 « Jeu de Dames, la libération des femmes » (1973) , un film du réalisateur Christian Lara, est un film de charme vaguement subversif qui n'aura pas laissé de grands souvenirs  Détail amusant cependant,  Georges de Caunes, le père d'Antoine de Caunes  y tient le role principal au coté de  Danielle Palmero.  Un nanar parmi d'autres qui sans être un film érotique est suffisamment olé-olé, pour ne pas arrivé à trouver sa place  en salles dans le circuit traditionnel. Face à cet échec commercial, le producteur d'alors peu scrupuleux, soucieux de sauver ses investissements, décide de remonter le film pour pouvoir le projeter dans le circuit des cinémas X. Il rebaptise le film de façon plus racoleuse «  Sex Revolution' » et y insère des scènes plus hard pour séduire les amateurs du genre. Le synopsis du film ainsi revisité ne laisse plus aucun doute quant à son contenu :
"ANIK aime ·les femmes. En l'occurrence MURIEL.
NORA a un appétit sexuel démesuré. Seule FRANCE semble normale.
Encore vierge, elle résiste aux assauts de son fiancé. Toutes les 4 sont de ravissantes Cover-Girls.
Elles débarquent sur une île pour effectuer un reportage publicitaire sur les motos , en compagnie d'Arnaud, un des plus brillants espoirs de sa firme. Mais c'est aussi le fils d'un écrivain bien connu pour ses romans anti-féministes .
Aussi quel n'est pas leur désappointement en voyant surgir un beau matin l'écrivain.
Obligé d'abandonner sonreportage pour une course importante, Arnaud livre ainsi ses compagnes à son père » (Extrait du dossier de presse de « Sex Revolution »).
Si  Georges de Caunes n'est plus crédité à l'affiche ni au générique du film « Sex Revolution », ce dernier se retrouve ainsi bien malgré lui, promu acteur principal d'un film porno pour le plus grand plaisir de son fils Antoine de Caunes qui rêve toujours 50 ans après de pouvoir enfin visionner ce chef d'œuvre oublié du 7eme art.
Le film semble raté (PS: Je ne l'ai pas vu) mais pour ce qui est de la musique en revanche, Jean Claudric est particulièrement inspiré et nous offre l'une des meilleurs BOF de Jazz funk français qui n'aurait pas à rougir de la comparaison avec les meilleures du genre tel qu' « Un homme est mort » de Michel Legrand,  ou « Le mariage collectif » de Jean-Pierre Mirouze sorti précédemment chez Diggers's Digest/Born Bad.
JB
//////////////ENGLISH//////////////////////////
"Jeu de Dames, la libération des femmes" (1973), a film by director Christian Lara, is a vaguely subversive charm flick that won't be remembered for a long time. An amusing detail, however, is that Georges de Caunes, father of Antoine de Caunes, the famous French TV personality, plays the lead role alongside Danielle Palmero.  It's just one of a number of naïve films that, without being erotic, is sufficiently olé-olé that it failed to find a place in theaters on the traditional circuit. Faced with this commercial failure, the unscrupulous producer at the time, anxious to save his investments, decided to re-edit the film so that it could be screened in the X-rated circuit. He rechristened the film "Sex Revolution" in a more racy style, inserting more hardcore scenes to appeal to fans of the genre. The synopsis of the revisited film leaves no doubt as to its content:
"ANIK loves -women. In this case, MURIEL.
NORA has an inordinate sexual appetite. Only FRANCE seems normal.
Still a virgin, she resists her fiancé's assaults. All 4 are ravishing cover girls.
They arrive on an island to work on a motorcycle advertising campaign, in the company of Arnaud, one of his firm's brightest hopes. But he's also the son of a writer well known for his anti-feminist novels.
So it's no surprise when the writer turns up one morning.
Forced to abandon his reportage for an important race, Arnaud gives up his companions to his father" (extract from the "Sex Revolution" press kit).
Although Georges de Caunes is no longer credited on the poster or in the credits of "Sex Revolution", he finds himself, in spite of himself, promoted to lead actor in a porn movie, much to the delight of his son Antoine de Caunes, who is still dreaming 50 years later of finally being able to watch this forgotten masterpiece of the 7th art.
The film seems to be a dud (PS: I haven't seen it), but as for the music, Jean Claudric is particularly inspired and offers us one of the best French jazz funk soundtracks, which would not blush at the comparison with the best of the genre, such as Michel Legrand's "Un homme est mort", or Jean-Pierre Mirouze's "Le mariage collectif", previously released by Born Bad.