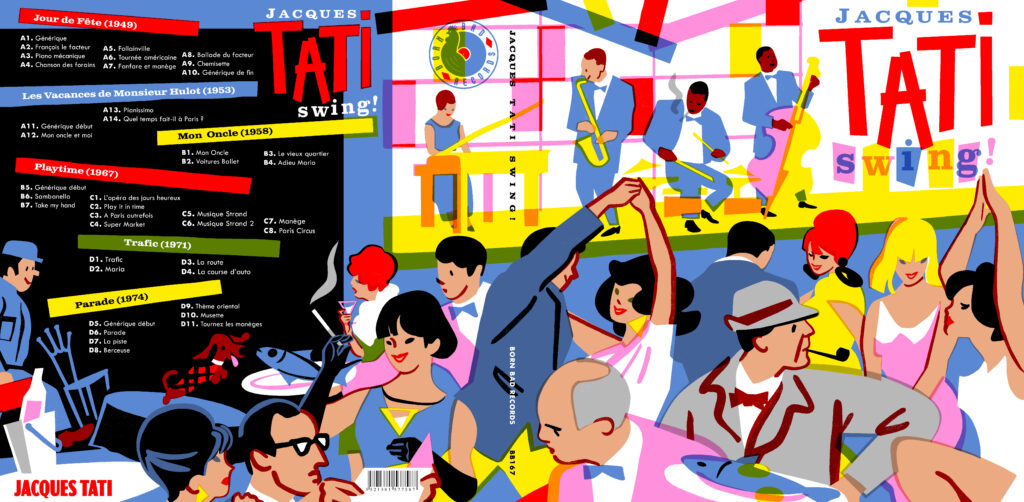 /////////////////ENGLISH BELOW///////////////
A vos tourne-disques !
Écouter un film de Tati est une expérience étonnante! Le son, la musique y prennent la parole, ont plus de place que les mots, que le conventionnel discours des adultes et son ennui. Hulot se tait ou bredouille. Tati connaît bien les bruits du monde moderne, bips, sonneries, grésillements, marteau-piqueurs, automobiles, sons mécaniques, électriques, caoutchouteux, talons hauts des secrétaires et machines à écrire, bruits d'usine, portes qui grincent, fauteuils qui soupirent, machines et machins techniques, le franglais, l'aspirateur,  et tout le petit ménager…  Il fait de tout ce fatras urbain et domestique, plastoc, plastic, plastac, lino et formica, une partition sonore virtuose. Tous les signaux et signalements, alertes et sirènes nous perdent dans les espaces urbains. Tati malicieusement nous désoriente. Il enregistre en grand, sur cinq pistes ! et dans des rythmes savants et savoureux. Un plaisir des sens. Et pour qui a entendu Mon Oncle, des Vacances de Monsieur Hulot, PlayTime… son regard sur le monde en sera changé. Plus jamais vous ne percevrez les bruits des villes et villages de la même façon. La ville moderne est pour Hulot un terrain de jeu ; il invente un paysage sonore inédit. Et puis, il y a l'organique, la campagne, les chiens qui aboient, la guêpe qui circule et agace François le facteur à vélo jusqu'au vol plané dans la rivière…
Quand nous avons rencontré Jacques Tati, rue de Bièvres, dans son modeste bureau plein de souvenirs de tournages, il nous a évoqué le music-hall, ses règles, le cinéma muet, son célèbre numéro de pantomime Impressions sportives… éloge du minimalisme des gestes et des bruits, et pas un mot. Quant à la musique de ses film qu'il nous décrivait comme des couleurs, elle  fait irruption dans le désastre, inaugure la fête : folie du batteur, danse frénétique au Royal Garden… Jamais illustrative, elle bouscule la rumeur du monde moderne et traverse l'histoire comme un vrai personnage. Lors du montage, images et sons sont un même matériau, un même récit. Tati a le secret du tempo. Pas un son, une note, un silence de trop dans son scénario. Raffinement absolu.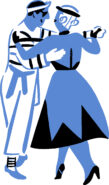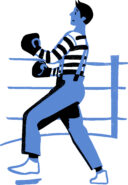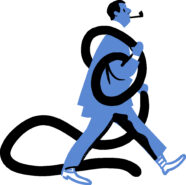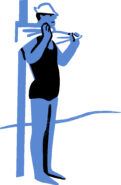 Alors, faites l'expérience dès ce soir. Posez le vinyle sur la platine,  allongez-vous, fermez les yeux, écoutez. Si vous connaissez les films de Tati, le voyage sera visuel et total, plans séquences, couleurs, décors fous, raffinement des néons, la ville moderne et son aéroport, le style Saint-Maur ou La Villa Arpel, Sainte-Sévère ou l'Hôtel de la plage, salon de l'automobile ou chapiteau de cirque, Daki le teckel, le petit Gérard, les touristes américaines … tout reviendra dans votre rêverie. Fantasmagorie. Si, par malheur, vous n'avez jamais vu un film du génial Tati, ni son jeu de jambes, ni ses facéties mélancoliques, la perdition poétique et drôle de Hulot, ni rencontré tous les personnages dessinés au trait par le cinéaste, alors votre imaginaire va s'envoler. Vous êtes embarqués. Le Son pour Tati, c'est la grande affaire du cinéma. Obsessionnel magnifique, il capte, attrape les sons et la musique dans une architecture savante, sensuelle. Joie de la perception ! Les bruits du monde l'inquiètent et l'amusent ; ils disent tout autant que l'image, la bascule dans la modernité, racontent nos maladresse, l'inadaptation, la désorientation des gens que nous sommes.
Du music-hall, il a gardé le goût de la valise du bruiteur, des sons recréés dans un ailleurs poétique. Du village, il a rapporté la fête foraine, l'accordéon ; de la ville moderne, la musique « à l'américaine », le jazz et quelques rengaines très parisiennes et autres mélodies pour manèges d'automobiles… Sans les images, c'est encore du cinéma !
Vous dire aussi : Tati avait prévu pour Confusion son dernier scénario, de travailler avec Les Sparks, ce groupe talentueux qui a imaginé la musique de Annette, le film si étonnant de Léos Carax… Du canari siffleur dans le rayon de soleil de la maison de M.Hulot à la marionnette fantastique d'une comédie musicale, nous sommes à coup sûr du côté des poètes.
Macha Makeieff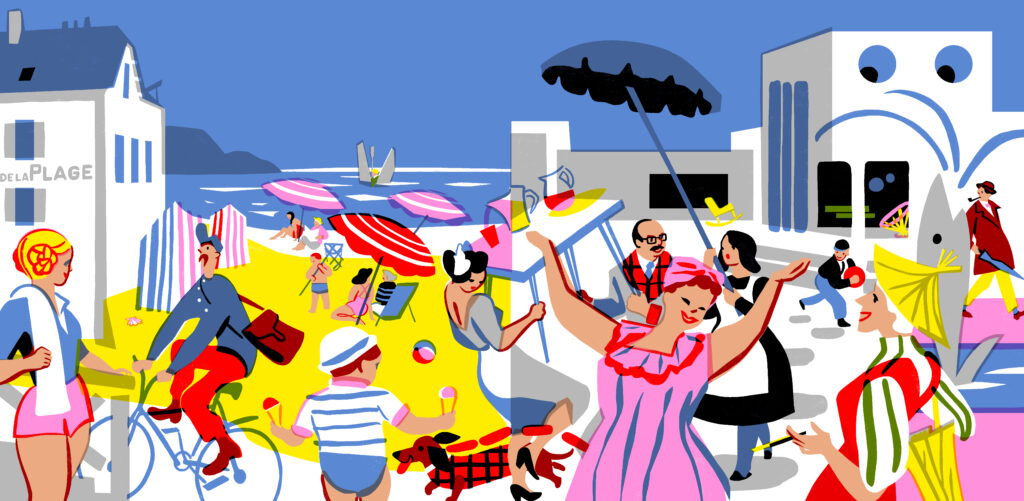 ///////////////////////ENGLISH////////////////////////
On your mark, get set, listen!
Watching a movie by Tati is a surprising experience; in his films, sound and music speak more than do words, overtaking the conventional discourse – and boredom – of adulthood. Hulot remains silent, or mumbles. Tati knows all about the noises of the modern world: beeps, rings, crackles, pneumatic drill, cars, mechanical, electrical and rubbery sounds, the high heels of secretaries and typewriters, factory noises, creaking doors, sighing chairs, machines and technical machines, franglais, vacuum cleaners and the whole range of small appliances… With all of that urban and domestic jumble, plastics of all sorts, linoleum and formica, he composes a virtuoso partition. Signs and signals, warning sounds and sirens mislead us in the urban space. Tati maliciously disorients us. Maximalist, he records on five tracks in skilful, tasteful rhythms – a pleasure for the senses. Hearing Mon Oncle, Les Vacances de Monsieur Hulot, Playtime changes one's outlook onto the world – never again will you perceive the noises of towns and villages in the same way. The modern city is Hulot's playground – with it he invents a totally new soundscape. Then there's the organic, the countryside, the barking dogs, the wasp bothering François on his bicycle, all the way to the mailman's fall into the river…When we met Jacques Tati in his modest, shooting paraphernalia-filled office on rue de Bièvres, he spoke about music hall and its rules, silent cinema, his famous pantomime Impressions Sportives… In praise of gestures and noises, and not a word. As for his movies' music, which he described as color, it bursts right into the mess, opens up the celebration: drummer's frenzy, frenetic dance at the Royal Garden… Never illustrative, it shakes up the thrumming of the modern world and makes its way through the story, just like a real character. Images and sound are edited as one single material, both equally partaking in the story. Tati masters the art of tempo – there's not one sound, one note, one silence too many in the scenario. Pure sophistication.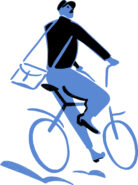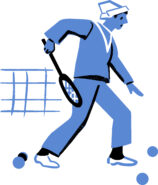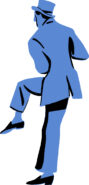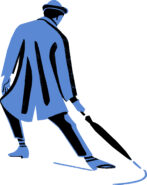 So try it tonight; put the record on, lie down, close your eyes and listen. If you know Tati's movies, your journey shall be visual and total, complete with sequence shots, colors, blurry decors, the refinement of neon lights, the modern city and its airport, Saint-Maur or Villa Arpel style, Saint-Sévère or Saint-Marc-sur-mer's "Hôtel de la plage", big top or auto show, Daki the dachshund, little Gérard, the American tourists… It will all come back to your mind. Phatasmagoria. Should you not ever have seen one Tati's brilliant films, nor his footwork and melancholy jokes, nor Hulot's poetic, funny perdition and all of his other meticulously sketched characters, then you're in for a trip. Your imagination's bound to take off – for Tati, sound is cinema's big thing. Magnificent maniac, he captures and catches sounds and music in a skilful, sensuous architecture. O joy of perception! The world's noises concern and amuse him; they say just as much as the image does, take it into modernity, tell of our shortcomings, maladjustment and bewilderment. From music hall he kept a liking for Foley and the art of recreating sounds in a poetic otherworld. From the villages he brought back the funfair and the accordion; from the modern town: music the American way, jazz, some very Parisian tunes, and other merry-go-round melodies… Even without the images, it's still cinema!
What's more: for his last scenario, Confusion, Tati had planned to collaborate with the Sparks, the talented band behind the soundtrack for Annette, Léos Carax's surprising film… From Mr Hulot's house's canary whistling in the sunshine to musical's fantastic puppets, we're undoubtedly siding with poets.
Macha Makeieff