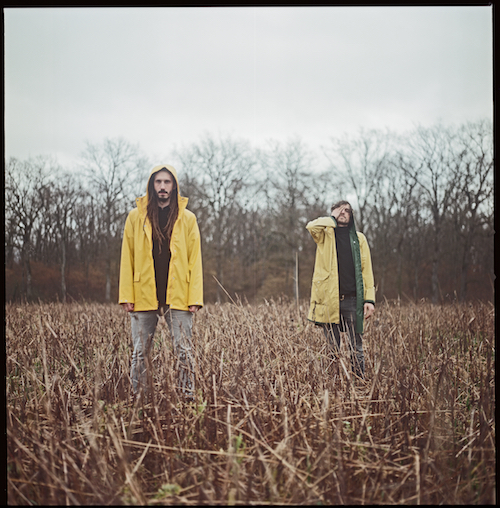 English and German text below
"L'autoroute blanche, la piscine le dimanche, le Mont Saint Michel…" tous rejoignent la scène, Cyril Cyril remue la boule à neige, Helvet underground comme on les appelle. Le dimanche de Cyril Cyril est une transe, on arrive, on se rassemble, les gens. La voix samplée, hésite, gémit un peu, Miami Beach, OK let's go.
Ainsi s'ouvre le nouvel album de Cyril Cyril Yallah Mickey Mouse. Ils ont repris leurs instruments et leurs racines aux pointes ébouriffées. Il ne s'agit pas de démêler. Les sonorités sont sculptées dans des marbres vibrants aux fossiles indociles. Une narration sonore visionnaire, une invitation au voyage non organisé. Émanations personnelles et recherches en studio, les influences multiples sont invoquées. Un hommage aux amis d'Hyperculte en souvenir d'un dromadaire égyptien, des clins d'oeil au phrasé de Cha Cha Guitry, à l'animal de Gerard Manset ou à la main d'Indochine.
Nous sommes là, ils sont sur scène. Au début, nous ne sommes que des humains. La voix parle, devant nos yeux se dressent des images, il faut leur faire de la place, alors on bouge un peu, on se balance pour laisser s'écouler les mirages de la lampe à pétrole. Cyril Bondi est à la batterie de ses instruments détournés, son corps entrainé au groove des sorciers, la fanfare d'insectes en délire est lancée. Cyril Yeterian est au banjo ou à la guitare électrique, sa voix de conteur passée par le temps et les migrations, reprend les récits suspendus depuis notre dernière rencontre. Ce chant. Une lame de fond, le sol se dérobe sous nos pieds, on en ressort la tête en bas, on a envie de danser sur les mains. Ces rythmes. Mains sur le sable, on tape, glisse et résonne. Cyril Cyril porte nos voix. Celles de ceux qui ne sont plus là aussi. Ils reviennent, c'est fou comme ils sont modernes, et puis sans gêne aussi, sans gêne et généreux, contents de pouvoir retrouver un peu de jeunesse, elle a l'air perdue, ils chantent. Cyril Cyril porte leurs voix. C'est beau de voir comme on est perdus, comme on cherche, c'est la musique qui nous tient debout, inspirée, engagée, enchevêtrée, elle sort de tous les corps qui l'écoutent, on irradie d'une puissance invisible.
Nos anches, nos mains, ondulent, respirent, comme cette musique. Cyril Cyril porte nos corps. La gamme ternaire de nos émotions et nos sourires qui reviennent. L'onde nous fait perdre pied, mais nous rattrape au ras du sol et nous dépose, doucement sur le sable.
L'ironie aussi, envers les figures du pouvoir, la petite marche des insectes les accompagne en riant, ces présidents. Et toujours la surprise, des clochettes résonnent dans toutes nos oreilles, celles de notre peau, de nos yeux et de nos mains, qui sont nos pieds, on ne sait plus. On se transforme. Et toujours, cette joie qui revient. Cyril Cyril porte nos sens. Ces sonorités, ces rythmes, nous rappellent quelque chose, des souvenirs plus riches que ceux que l'on peut amasser dans une vie. Cyril Cyril nous ouvre l'esprit. On résonne de plus en plus, on s'emmêle de plus en plus, tout s'imbrique, les sons et leurs lumières. On est la génération kaméaméa, les frontières qu'on ne veut plus sont fracassées. La musique ne doit pas s'arrêter. Yallah ! La mélodie d'orgue psychédélique accompagne la voix qui monte dans les aigus, les percussions nous encouragent. On accélère la pulsation, on se rapproche et trépigne ensemble, on veut la tête de Mickey Mouse. Échos de chants d'oiseaux, d'un bestiaire. Nous sommes des animaux, le carnaval des animaux, s'ils veulent encore de nous. On ne va pas se quitter comme ça, une dernière danse, on se précipite, maintenant on sait inverser les pôles, les frontières sont abolies, tout circule, les sons, la joie d'être ensemble, Cyril Cyril nous emporte.
Marion Zurbach
Biographie
De tous les Cyril qu'enfanta la Cité de Calvin à l'orée des années 80, ces deux là devaient fatalement se trouver. Deux Cyril comme deux âmes dizygotes dont les aléas ont hâté la rencontre. Cyril Cyril. Hydre libre, née de cette ville de diplomates où Borges, dans L'Autre, dédoublait son égo rajeuni.
Sur les ruines de leurs groupes éreintés s'échafaude un empire d'essence cosmopolite. Car ces Cyril ont engrangé des miles, depuis leur havre genevois.
Muezzin sans frontières, Cyril Yeterian vient au monde échevelé dans Mama Rosin. Un trio réveillant les spectres des bayous voyous, les Mardi Gras moites d'une Louisiane électrique. Le monde, très vite, s'éprend de leur verve. La BBC les fête, Jon Spencer les produit, les disques prolifèrent. Et puis en 2017, l'état de grâce trépasse. Cyril est seul.
Oh, pas tout à fait. Car autour de lui champignonne la musique. Dans sa boutique Bongo Joe, sur le label du même nom, dans les soirées DJ qu'il fomente en sous-sol, Yeterian défriche à tout va, dans une boulimie de grooves exilés.
Dans le même espace-temps, Cyril Bondi, lui, prend la tangente. Diatribes, La Tène, Insub Meta Orchestra, les projets les plus aventureux de la scène genevoise ont tous maille à partir avec ce percussionniste en quête de pulsations inouïes. Lui aussi voyage, connaît l'ascension, l'ivresse des cimes et la chute. Plaistow, son groupe de jazz médiumnique, d'hypnose acoustique, chahute le landerneau saturé du trio piano-basse-batterie et conquiert les coeurs d'Europe et d'Orient. Jusqu'à la rupture.
Bondi cherche alors un local pour y déposer son attirail. Il trouve mieux : un complice en prospection musicale, un Cyril au diapason de son instinct frondeur.
Plus question donc de s'appuyer, tel le "Colosse de Rhodes", sur des piles éprouvées. L'aventure réclame un nouveau bagage, un nouveau langage. Cyril et Cyril sont dans un bateau et tous deux se jettent à l'eau.
Guitariste et accordéoniste, Cyril Y. adopte le banjo. Il y greffe des pédales d'effet qui ont tôt fait de le muer en bouzouki malingre, en saz épique, en lyre d'Addis. Cyril B, lui, recompose une batterie de cuisine cannibale, sertissant sa grosse caisse modèle fanfare de grelots maousses et de noix tropicales.
Il faut avoir vu ces deux-là, un soir de festival populeux, surchauffer un club étriqué en convoquant des négus utopiques. Jouer aux nouveaux berbères, provoquer d'improbables soukous sismiques en une transe qui tient autant du vertige hippie que de Fraggle Rock.
Car la musique, pour Cyril Cyril, est un usage du monde. Un décentrement joyeux qui offre de nouvelles prises à l'appréhension du chaos. Le propos ici, n'a rien d'une partie de campagne mondialisée, d'un exotisme gluten-free. Sous la plage, les pavés. Le politique affleure toujours à la surface de ces chants grisants, de ces grooves osseux.
Quand il ne remonte pas la filière familiale d'un dialecte libanais adopté sur le tard, Cyril Yeterian scande en français des rhapsodies dont le vocable impérieux dit tout des insurrections qui viennent.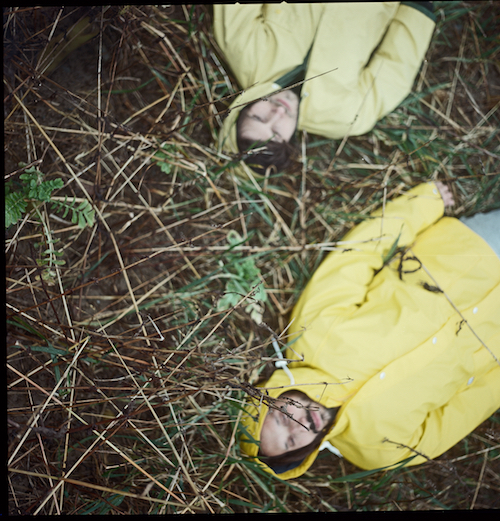 ///// ENGLISH ///////////////////////////
L'autoroute blanche, la piscine le dimanche, le Mont Saint Michel… all join the scene, Cyril Cyril stirs the snow globe, Helvet underground as they are called. Cyril Cyril's Sunday is a trance, we arrive, people gather. The samples vocals, hesitates, moans a little, Miami Beach, OK let's go.
This is how Cyril Cyril introduce their new album "Yallah Mickey Mouse". Once again, they take back their instruments and their roots with their ruffled tips. It is not about untangling. The sonorities are sculpted in vibrating marbles with indocile fossils. A visionary sonic narration, an invitation to an unorganized journey. Multiple influences are called on in the frame of this project of personal emanations and studio research. A tribute to the friends of Hyperculte in memory of an Egyptian camel, winks to the phrasing of Cha Cha Guitry, to the animal of Gerard Manset or to the hand of Indochine.
We are here, they are on stage. In the beginning, we are only human. The voice speaks, images stand in front of our eyes, now we have to make room for them. So we move a little bit, we swing to let the mirages of the oil lamp flow. Cyril Bondi is at the drums with his custom instruments, his body is trained to the groove of the wizards, and the fanfare of delirious insects starts. Cyril Yeterian is on the banjo or on the electric guitar. His storyteller's voice, that has travelled time and migrations, resumes the stories suspended since our last meeting. This song. A ground swell, the ground vanished under our feet, we find ourselves upside down, we feel like dancing on our hands. These rhythms. Hands on the sand, we tap, slide and resonate. Cyril Cyril carries our voices, including the ones of those who are no longer here. They come back, it's crazy how modern they are, and then without embarrassment too, without embarrassment and generous, happy to be able to regain a little youth, it looks lost, they sing. Cyril Cyril carries their voices. It's beautiful to see how lost we are, how we are searching, it's the music that keeps us standing, inspired, engaged, tangled, it comes out of all the bodies that listen to it, it radiates an transcendent power.
Our reeds, our hands, undulate, breathe, like this music. Cyril Cyril carries our bodies. The ternary scale of our emotions and our smiles that come back. The wave makes us lose ourselves, but the harmonies gently overtake this feeling as we lay on the sand.
Also, the irony. The figures of power, the small march of insects accompanies them while laughing, these presidents. And always the surprise, bells ring in all our ears, those of our skin, our eyes and our hands, which have become our feet, we no longer know. We transform ourselves. And this joy that always comes back. Cyril Cyril carries our senses. These sounds, these rhythms, remind us of something. The memories are richer than those we could have gathered in a lifetime. Cyril Cyril opens our minds. We resonate more and more, we get more and more entangled, everything intertwines, the sounds and their lights. We are the Kaméaméa generation, and the frontiers we no longer want are shattered. The music must not stop. Yallah! The psychedelic organ melody accompanies the voice which rises in the higher frequencies, the percussions encourage us. We accelerate the pulsation, we get closer and stomp together, we want the head of Mickey Mouse. Echoes of bird songs, of a bestiary. We are animals, the carnival of animals, if they still want us. We are not going to leave each other like that, one last dance, we rush, now we know how to reverse the poles, the borders are abolished, everything circulates, the sounds, the joy of being together, Cyril Cyril carries us away.
Marion Zurbach
Bio
Of all the Cyrils born in the city of Calvin at the dawn of the 80s, these two were bound to find each other. Two Cyrils like two dizygotic souls whose contingencies have brought their meeting forward. Cyril Cyril. A liberated hydra, born in this city of diplomats where Borges duplicated his rejuvenated ego in "The Other".
On the ruins of their worn out bands, they put together an innately cosmopolitan empire. Because these Cyrils have devoured miles, away from their Genovese haven.
A muezzin without borders, Cyril Yeterian came to the disheveled world through Mama Rosin, a three-piece that stirred the ghosts of the rogue bayou, the clammy Mardi Gras of some electric Louisiana. Soon, the world fell in love with their flair. The BBC celebrated them, Jon Spencer produced them, records proliferated. And then in 2017, the honeymoon period passed. Cyril was alone.
Well, not quite: music kept popping up around him. Inside his Bongo Joe record store, on the label of the same name, in the underground DJ sets he stirred up, Yeterian explored like crazy, in a binge of exiled grooves.
Within the same space-time, Cyril Bondi hit the road. Diatribes, La Tène, Insub Meta Orchestra, the most adventurous projects of the Geneva scene all had a bone to pick with this percussionist in search of unheard beats. He, as well, traveled, experienced the ascent, the euphoria of the peaks and then the fall. Plaistow, his mediumistic, hypnotic jazz band, heckled the saturated world of piano-bass-drums trios and won hearts through Europe and the East. Until the breaking point.
So Bondi started looking for premises to drop his equipment. He found better: an accomplice for musical prospecting, another Cyril in tune with his rebellious instinct.
Enough with leaning upon solid piers like a Colossus of Rhodes. This adventure required new baggage, a new language. Cyril and Cyril were in the same boat, and both took the plunge.
A guitarist and an accordionist, Cyril Y. took on the banjo, adding effect pedals to it to turn it into a puny bouzouki, an epic bağlama or a krar. Cyril B. cobbled some cannibal drum kit together, with massive jingle bells and tropical nut shells embedded in his marching bass drum.
You should have seen these two, on a populous festival night, bringing a narrow club to fever pitch by summoning utopian Neguses. Playing new Berbers, provoking unlikely seismic soukous in a trance that has as much to do with the hippie giddiness as with Fraggle Rock.
Indeed, for Cyril Cyril, music is a way of the world, a joyful decentration offering new keys to comprehend chaos. The point here has nothing to do with some globalized country excursion nor some gluten-free exoticism. Beneath the beach lie the paving stones. Politics always end up showing on the surface of these exhilarating chants, of these skeletal grooves.
Apart from tracing back the family pathway of some belatedly-adopted Lebanese dialect, Cyril Yeterian chants rhapsodies in French, the merciless terms of which say it all about coming insurrections.
////////////GERMAN///////////////////
L'autoroute blanche, la piscine le dimanche, le Mont Saint Michel … alle treten in Szene, Cyril Cyril schütteln die Schneekugel. Helvet underground werden sie genannt. Cyril Cyrils Sonntag feiert die Trance, wir kommen an, versammeln uns. Gesamplete Stimmen, mal zögernd, mal stöhnend, Miami Beach, ok, let's go.
So eröffnet sich das neue Album von Cyril Cyril, Yallah Mickey Mouse. Wieder packen sie ihre Instrumente und ihre Wurzeln an den gekräuselten Spitzen. Es geht nicht darum, zu entwirren, die Klänge formen sich. Eine visionäre Klangerzählung, eine Einladung unorganisierten Reisens. Vielfältigste Einflüsse werden zu diesem Projekt der persönlicher Emanationen und Studioforschung herbeigezogen. Eine Hommage an die Freunde von Hyperculte in Erinnerung an ein ägyptisches Kamel, eine augenzwinkernde Phrasierung von Cha Cha Guitry, l'animal von Gerard Manset oder la main von Indochine.
Wir sind hier, sie sind auf der Bühne. Am Anfang sind wir alles nur Menschen. Die Stimme spricht, Bilder entstehen vor unseren Augen, jetzt müssen wir ihnen Platz machen. Also bewegen wir uns ein bisschen, wir schwingen mit den Schattenspielen, die das Licht der Öllampe wirft. Cyril Bondi am Schlagzeug der besonderen Instrumente, sein Körper auf den Groove der Zauberer eingespielt, die Fanfaren delirierender Insekten beginnen. Cyril Yeterian spielt auf dem Banjo oder auf der E-Gitarre. Seine Stimme, die eines Geschichtenerzählers, der Zeit und Wanderungen durchlebt hat, nimmt den Faden nach unserem letzten Treffen wieder auf. Dieses Lied. Der Boden schwillt auf, das Fundament schwindet unter den Füssen, wir stehen Kopf und haben Lust, auf unseren Händen zu tanzen. Cyril Cyril tragen unsere Stimmen, auch jene, die schon lange verstummt sind. Sie kommen zurück, es ist verrückt, wie modern sie sind. Ohne Verlegenheit, großzügig, glücklich, ein wenig Jugend zurückzugewinnen. Cyril Cyril tragen ihre Stimmen. Es ist schön zu sehen, wie verloren wir scheinen, wie sehr wir suchend sind. Es ist die Musik, die uns stehen lässt, die uns inspiriert und einnimmt. Sie schwingt aus allen Körpern, die ihr lauschen, strahlt transzendente Kräfte aus.
Eine Bodenschwellung, der Boden verschwand unter unseren Füßen, wir stehen auf dem Kopf, wir haben Lust, auf unseren Händen zu tanzen. Diese Rhythmen. Hände auf den Sand, wir klopfen, rutschen und schwingen mit. Cyril Cyril trägt unsere Stimmen, einschließlich derer, die nicht mehr hier sind. Sie kommen zurück, es ist verrückt, wie modern sie sind, und dann auch ohne Verlegenheit, ohne Verlegenheit und großzügig, glücklich, ein wenig Jugend wiederzugewinnen, es sieht verloren aus, sie singen. Cyril Cyril trägt ihre Stimmen. Es ist schön zu sehen, wie verloren wir sind, wie wir suchen, es ist die Musik, die uns stehen lässt, inspiriert, engagiert, verwirrt, sie kommt aus allen Körpern, die sie hören, sie strahlt eine transzendente Kraft aus.
Unsere Hände winken wellenförmig, atmen wie diese Musik. Cyril Cyril tragen unsere Körper. Das ternäre Ausmaß unserer Emotionen und unseres Lächelns, das zurückkommt. Die Welle lässt uns Bodenhaftung verlieren, aber die Harmonien holen uns sanft zurück und betten uns in weichen Sand. Auch, die Ironie. Und immer die Überraschung, Glocken läuten in all unseren Ohren, denen unserer Haut, unserer Augen und unserer Hände, die zu unseren Füßen geworden sind, wir wissen es nicht mehr. Wir verwandeln uns. Und diese Freude, die immer wieder kommt. Cyril Cyril tragen unsere Sinne. Diese Klänge, diese Rhythmen erinnern uns an etwas. Die Erinnerungen sind reicher als die, die wir in unserem Leben hätten sammeln können. Cyril Cyril öffnen unseren Geist. Wir schwingen immer mehr mit, wir verwickeln uns immer mehr, alles verflechtet sich, die Geräusche und ihre Lichter. Wir sind die Kaméaméa-Generation, und die Grenzen, die wir nicht mehr wollen, sind aufgebrochen. Die Musik darf nicht aufhören. Yallah! Die psychedelische Orgelmelodie begleitet die Stimme, die in den höheren Frequenzen ansteigt, die Percussions ermutigen uns. Wir beschleunigen das Pulsieren, wir rücken zusammen und stampfen zusammen, wir wollen den Kopf von Mickey Mouse. Echos von Vogelliedern, von einem Bestiarium. Wir sind Teil des Karnevals der Tiere, wenn sie uns noch wollen. So werden wir einander nicht verlassen, ein letzter Tanz, wir eilen, jetzt wissen wir, wie man die Pole umkehrt, die Grenzen werden abgeschafft, alles zirkuliert, die Geräusche, die Freude am Zusammensein, Cyril Cyril tragen uns weg.
(Übersetzt nach Marion Zurbach)