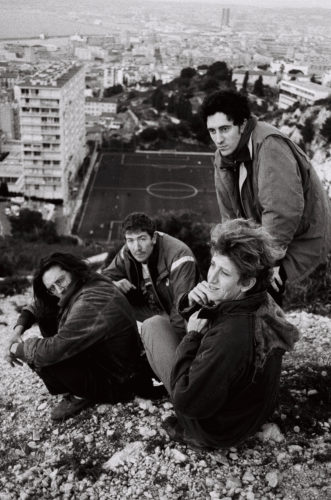 Un bassiste qu'on croitrait sorti d'un film de surfers tourné aux abords de Tchernobyl. Un guitariste qui vous parle plus volontiers de Lunatic ou de musique thaïlandaise que des Stooges. Un clavier invité sur un malentendu à une répétition qui a été engagé parce qu'il s'est endormi sur son synthé. Un chanteur-poète australien sans-papiers resté en France pour une fille, qui s'est improvisé une chambre dans une cabane au fond d'un jardin. Celui de la petite maison grise aux volets rouges du Val-de-Marne, où le groupe vit, répète, organise des concerts et enregistre les disques les plus vitaux, vibrants et excitants entendus en France ces deux dernières années – et, disons-le très franchement, bien, bien au-delà.
Un storytelling à faire pâlir les managers d'Eddy De Pretto et Angèle, qui est pourtant rigoureusement authentique et qui s'est construit comme toutes les vraies bonnes histoires : sans qu'on vienne la chercher. Et la musique du Villejuif Underground est construite sur le même schéma – une suite de hasards et d'accidents, un assemblage contre nature qui n'aurait jamais, jamais du marcher mais qui s'est imposé comme un des fandangos les plus ahurissants entendus depuis longtemps. Pensez Oingo Boingo repris par Fat White Family sur le matos de Beat Happening, pensez One Foot In The Grave de Beck remixé par Daniel Johnston et Brian Wilson, pensez Ausmuteants, les Spits, The Feeling Of Love ou A Frames quand ils touchaient tous ce truc magique du bout des doigts, mais en vérité, vous feriez mieux de ne pas penser à tout ça, parce que de toute façon, vous n'y serez pas. Loin de là. 
D'autant plus que le cas s'aggrave dangereusement avec When Will The Flies In Deauville Drop?, deuxième album qui paraît en ce début d'année sur Born Bad. 11 titres balancés en moins de 40 minutes. 11 déclarations d'amour claudiquantes aux sacs à dos trop lourds, aux châteaux hantés, aux quartiers tranquilles du 14ème arrondissement et aux tournées en Chine – organisées sur un malentendu là encore, grâce à une fille retrouvée endormie dans un canapé un lendemain de nouvel an. 11 sérieuses démonstrations de style. 11 raisons de continuer à croire que oui, il existe encore un chemin, en 2018, qui ne passe pas par les presets GarageBand, la synchro de pub et les airs de pipeau des attachés de presse.
Si vous n'avez pas déjà été contaminés par Le Villejuif Underground (leur premier album sorti sur SDZ) ou Heavy Black Matter (EP paru fin 2017 chez Born Bad), il est probable que votre tumultueuse histoire d'amour avec le Villejuif Underground commence ici. Assurez-vous de la vivre à fond. Bien à fond.
LELO JIMMY BATISTA (photos : Camille Bokhobza)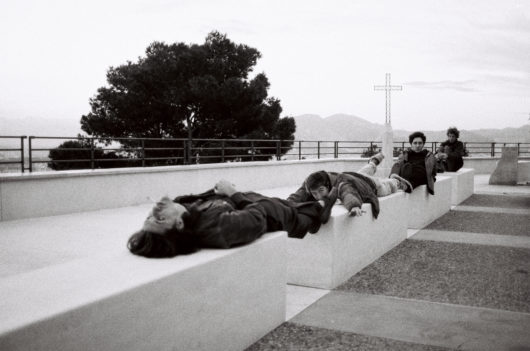 ///////////////////////////////////////////////////////////
A bass player looking like the main character of a surf movie shot in Chernobyl. A guitar player who'll take french rap or thaï music over the Stooges, anytime. A keyboard player invited at reharsal by mistake who got the job cause he felt asleep on his synth. An australian poet-singer lost in France with no papers, sleeping in a cabin in the backyard of the Villejuif house where the whole band lives, sets up shows and records the most vital, exciting and enthralling records heard in France for a long, long time.
PRs & managers would kill for such a story – this one is 100 % accurate and happened just like any great story : by chance. Just like the music of the Villejuif Underground, the result of happy accidents and unholy alliances, something that was never meant to be but became an astonishing fandango of sorts. Think Fat White Family covering Oingo Boingo with Beat Happening's gear. Think Beck's One Foot In The Grave remixed by Daniel Johnston and Brian Wilson. Think Ausmuteants, the Spits, the Feeling Of Love or A Frames when they really nailed it. Actually, you shouldn't think about any of this cause whatever you do, you'll still be far from reality. Way too far.
Especially now with the release of When Will The Flies In Deauville Drop?, their second album and the first one on Born Bad Records. 11 tracks in a bit less than 40 minutes. 11 clumsy love letters to heavy backpacks, haunted castles, sleepy parisian districts and tours in China – which happened by total chance, thanks to some girl found asleep on their couch on new years eve. 11 reasons to think there's a way out of 2019 – already. Your stormy love story with the Villejuif Underground starts here. Be sure to enjoy it. To the max.
LELO JIMMY BATISTA