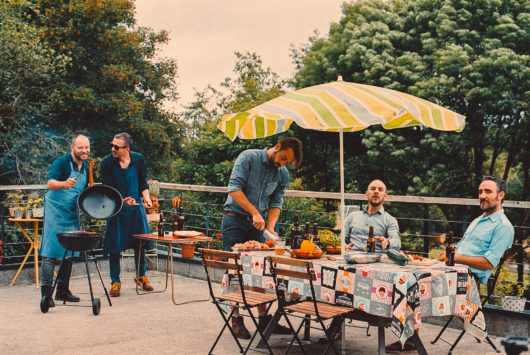 (ENGLIH BELOW ) Si les membres de Cannibale rendaient leur petit-déjeuner au moment de parler de « Not easy to cook », l'auditeur serait bien surpris. Les quadras étant signés chez Born Bad, on penserait Garage et look à la Didier l'Embrouille, mais on se retrouverait avec des bouts d'Exotica coincés entre les dents, le « Jungle Obsession » de Nino Nardini & Roger Roger étalé sur la table et du Glam tropical en bouteille plastique dégueulé par une version encore plus débile que le Mike Myers de Wayne's World. Le décor est planté, vous êtes bon pour tout nettoyer.
Si l'on vous parle de tout ça, c'est qu'entre le début de la success story de Cannibale et ce deuxième album, il y a un monde. Encore un peu et on aurait presque l'impression que Freddie Mercury vient de débarquer en Renault 16 supersport pour jouer du Marimba à d'anciens fans de rock bas du front. Et en fait, c'est à peu près ça : Le Rocky Horror Picture Show et Fela Kuti en bottes de caoutchouc.
Et si le nombre de vaches n'a pas augmenté dans le bled de Normandie dont sont issus les gars de Cannibale, pour le nombre de dates par contre, c'est autre chose. Entre « No Mercy For Love », le premier album signé de 2017, et le nouveau « Not easy to cook », les Frogs – c'est le nom de la piste d'ouverture – ne sont pas passés de la cumbia psyché à l'autotune sur gravier, mais ils sont partis sillonner les routes comme des cyclistes dopés. Plus de 100 dates en moins d'un an (dont pas mal avec Frustration et Villejuif Underground), des festivals comme Rock en Seine et une revue de presse dithyrambique :
« Des rythmes indolents qui convoquent Amérique Latine et Afrique. » (Mowno)
« Un garage rock voyageur et volontiers ensoleillé. » (Libération)
« Des morceaux qui provoquent des visions ou des hallucinations. » (France Inter)
Voyez, même Johnny n'a pas eu droit à une telle couverture médiatique ! Alors, le secret de Cannibale, c'est quoi ? Etre vieux et mettre la branlée à des kids de 19 ans ayant découvert des tutos de marimba sur Youtube ? Oui, mais c'est un peu plus qu'un groupe de darons. « Le groupe a appris tous les codes sur la route en moins de deux ans » témoigne Jean-Baptiste Guillot de Born Bad. Pour les chansons, ça fait longtemps qu'ils savent faire. Rescapés de différents projets musicaux qui ont tous foiré, les différents membres ont fini par réussir parce que plus rien d'autre que la musique ne comptait. En ça, la trajectoire déviante du groupe n'est pas très éloignée de celle de Vox Low, autre signature maison.
Mais le plus surprenant dans « Not easy to cook », c'est la moiteur qui s'en dégage. Difficile de résumer l'affaire autrement qu'en comparant ces 10 chansons à une cocotte minute où auraient cuit des bouts de dancehall, de ska londonien et de dub hawaïen décapsulé avec les fesse. C'est là que le disque, enregistré par le groupe dans son village français du bout du monde, réussit un petit miracle : sonner français, mais côté Polynésie française.
Sur « Not easy to cook », on entend des grenouilles, des oiseaux, le bruit de la jungle dans un salon. Ceux déjà traumatisés par le vibraphone d'Arthur Lyman et la Lounge music de Les Baxter devraient se sentir chez eux ; les novices découvriront enfin autre chose que les samedis chez Nature et Découverte.
Bester Lang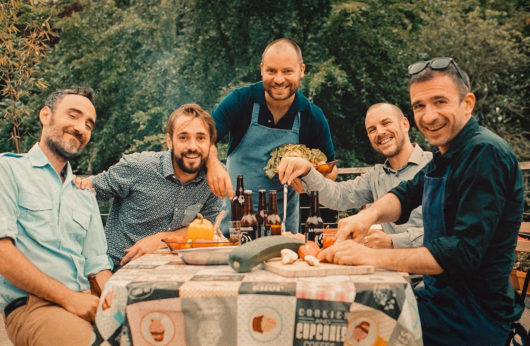 //////////////////////////////////////////////////////////
If Cannibale's members brought their breakfast back up when talking about "Not easy to cook", their listeners would be surprised. These fortysomethings being signed by Born Bad Records, the image of greaser-looking garage rockers would come to mind, but with bits of exotica stuck between the teeth, Nino Nardini & Roger Roger's "Jungle Obsession" spilled on the table, and plastic-bottled tropical glam puked by some even more stupid incarnation than Wayne's World''s Mike Myers. The stage is set, now you have to clean up everything.
Why mention all this? Because there's a world of difference between the beginning of Cannibale's success story and this second album. It wouldn't take much to feel as if Freddie Mercury showed up in a Renault 16 supersport to play marimba for old oafish rock fans. And actually, that's about it: The Rocky Horror Picture Show meets Fela Kuti in rain boots.
And though the amount of cows hasn't increased in the Normandy hole these guys hail from, the number of their shows did. Between "No Mercy For Love" (their 2017 debut album), and the new one "Not easy to cook", these Frogs – to quote the title of the opening track – did not switch from psyche cumbia to coarse-grained autotune, but rather roamed roads like doped cyclists: more than 100 dates in less than a year (including quite a few with Frustration and the Villejuif Underground), festivals such as Rock en Seine, and a eulogistic press review:
 "Indolent rhythms invoking Latin America and Africa." (Mowno)
"Nomadic, willingly sunny garage rock." (Libération)
"Songs that provoke visions or hallucinations." (France Inter)
See, Johnny Hallyday himself did not get such media coverage! So what's Cannibale's secret? Being old and giving 19-year-old kids who just discovered marimba tutorials on YouTube a thrashing? Certainly, but it's a little more than a band of old fogeys. "The band learned it all on the road in less than two years," says Born Bad's Jean-Baptiste Guillot. Songwriting-wise, they've known how to do for a long time. The members – survivors of various screwed-up musical projects – finally succeeded because nothing else than music mattered anymore. In that, the band's deviant trajectory is not so different from Vox Low's, another in-house signing.
But the most surprising thing about "Not easy to cook" is the sultriness that emerges. It's hard to sum it up other than by comparing these 10 songs with some pressure cooker in which bits of dancehall, London ska and Hawaiian dub  would have cooked together. Here's the small miracle achieved by this LP recorded by the band in its remote French village: sounding French, but Polynesian French.
With "Not easy to cook", frogs, birds, sounds from the jungle can be heard in a living room. Those already traumatized by Arthur Lyman's vibraphone and Les Baxter's Lounge music should feel at home; novices will finally discover something other than Saturdays at the Whole Foods Market  store.