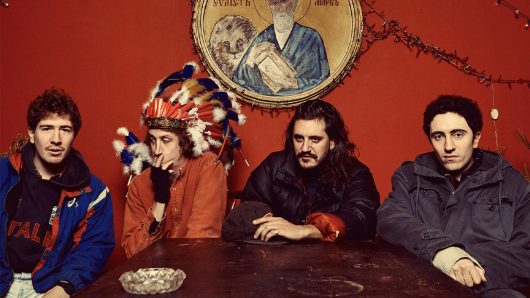 LE VILLEJUIF UNDERGROUND est un projet collaboratif De l'Australien Nathan Roche et trois Français de Villejuif (formellement de Geto Tropic) troublés dans la banlieue sud de Paris.
Après un an de jouer pratiquement tous les bars, bistrots et salles à Paris, à côté de groupes comme The Rebel, Ausmuteants, Juan Wauters, White Fang, The Abigails et King Khan & the Shrines, ils ont sorti leur premier LP sur les enregistrements SDZ, qui ont suivi un album live auto-libéré.
Trois glorieuses visites de la France, de la Belgique et d'une tournée absurde de la Chine qui comprenait festivals aux côtés des TOP 40 pop stars chinoises.
Leur marque imprévisible de garage, de pop, de country et de disco a établi des comparaisons avec des groupes inspirés par le journalisme paresseux auxquels personne au sein du groupe ne se sent lié.
Tout enregistrement peut être différent et chaque jour est le même.
Batteur ou machine batterie, qui s'en soucie?
Un nouveau 7'' est sur le point de sortir sur Born Bad Records, bientôt suivi par un album, maintenant que M. Roche a cessé de toucher n'importe quel instrument qui a plus de 5" de long.
Grenouilles
À des fins biographiques, les inspirations sont :
TRIPLE SIX MAFIA, THE BAND, LES FUGS, KIM FOWLEY, TG GONDARD, LES GARÇONS DE LA PLAGE ET LOTS BOOTLEG POETRY VIVANTS PAR DAVID BROMIGE. Génial. Parfait. Génie.
La fin.

///////////////////////////////////////////////
LE VILLEJUIF UNDERGROUND is a collaborative ; of Australian Nathan Roche
and three disturbed Frenchmen from Villejuif (formly of Geto Tropic) in the southern suburb of Paris. 
After a year of playing virtually every stinking bar, bistrot and venue in Paris, alongside such groupes as The Rebel, Ausmuteants, Juan Wauters, King Khan & the Shrines White Fang and The Abigails they released their debut LP
on SDZ Records which followed a self-released live album.
Three glorious boozy red-wine-stained tours of France, Belgium and a absurd tour of China which included festivals alongside Chinese TOP 40 pop stars.
Their unpredictable brand of garage, pop, country & disco has drawn comparisons to bands inspired by lazy journalism which no one in the group feels connected to.
Everything record might be different and every day is the same.
Drummer or Machine batterie, who cares ?
A new 7'' is about to be released on Born Bad Records, soon followed by an album, now that Mr. Roche stopped touching any instrument that is more than 5'' long.
Frogs 
For biographical purposes; this inspirations are
TRIPLE SIX MAFIA, THE BAND, TG GONDARD, THE FUGS, KIM FOWLEY, THE BEACH BOYS AND LIVE BOOTLEG POETRY READINGS BY DAVID BROMIGE. Great. Perfect. Genius.
The End.  
Photos : William Lacalmontie