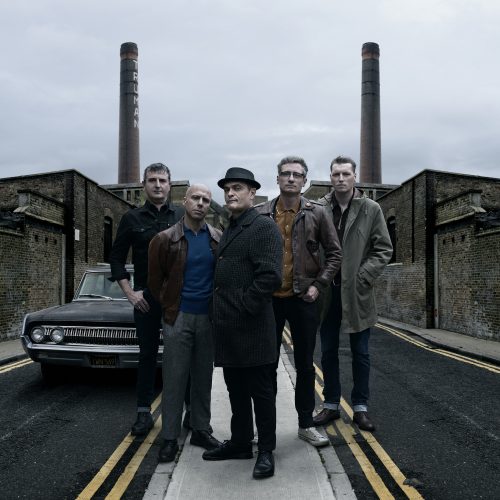 Les présenter une énième fois serait leur manquer de respect. Mais rappeler pourquoi ils sont importants ne peut pas faire de mal. Historiquement liés à la montée de puissance de Born Bad Records, dont ils furent la toute première sortie, les membres de Frustration font figure de grands frères bienveillants de toute la scène indé française. Leur parcours même est symbolique : issus du milieu garage qui tournait en circuit fermé dans les années 90, ils ont délaissé le rock à tatouages/gomina pour tenter autre chose – un truc à la croisée du punk et de la cold wave, de Metal Urbain, Killing Joke, et Joy Division – quand nous redécouvrions tous le patrimoine « synthwave » de la France à travers les compiles BIPPP ou Des Jeunes gens mödernes. Et cinq mecs pas vraiment réputés pour être des dieux de la technique se sont retrouvés investis d'une grâce étrange, entre l'éclosion du génie et l'alignement de planètes : devenus avant-gardistes à la quarantaine commençante, ils ont montré le chemin comme si de rien n'était à toute une génération de groupes qui a pris conscience que oui, c'était possible, ici-même, dans l'Hexagone maudit. Succès critique, grosses ventes, public déchaîné. Le reste est de l'histoire.
Depuis, il faut bien dire que la nostalgie n'est plus ce qu'elle était. Quand on en a eu marre de lire dans la presse musée-rock que rien de bon ne s'était enregistré depuis 1967, on s'est dit qu'on avait peut-être mieux à foutre dans la vie, tout bien pesé, que de choisir la couleur des tapisseries et des cravates italiennes. Et qu'il était temps de replonger dans la fosse, sans se retourner, pour s'assourdir avec quelque chose qui nous appartient. Si l'excitation qui entourait le retour du garage commence à s'essouffler à force de copulation du genre avec lui-même (le prochain groupe qui vient nous jouer le répertoire de Thee Oh Sees a perdu), l'excitation est toujours là, comme au premier jour, à l'heure d'écouter Empires Of Shame, le troisième album de Frustration. « Seulement » le troisième d'ailleurs, en presque quinze années d'existence, comme il sied aux groupes qui ne surfent sur aucune vague, mais creusent avec obstination le même pas-de-vis dans le mur porteur de la légende, pour y accrocher, une fois l'œuvre finie, la médaille du meilleur ouvrier.
Après avoir concassé des montagnes entières sur Relax (2008) et défriché de pleins continents de forêts vierges avec Uncivilised (2012), le quintet se propose de terraformer Mars par projection d'énormes morceaux de banquise, avec cet opus qui se présente, dans un premier temps, comme un retour au froid et à l'antipathie – celle des punks à costumes douteux qui prenaient des noms de capitale polonaise. « Dreams, Law, Rights and Duties », « Just Wanna Hide », et « Excess » servent de béquille dans le genou en guise de bienvenue sur le terrain de jeu de Fabrice, dont la voix parcourt les registres comme un ninja les forêts de bambou, du vague-à-l'âme curtissien au crachat cockney, pour une enfilade de tubes comme on en voit rarement. « Arrows Of Arrogance » marque la pause, mais cette étonnante ballade quasi-smithienne sur fond de boucles plaintives, et qui finit en chant prolétaire, est un des sommets de l'album. « Mother Earth In Rags » sera officiellement un tube, tant sa harangue est baroque, théâtrale comme un discours de Lénine dans un opéra sur le communisme ; « Cause You Ranaway » montre que les mecs ont aussi, peut-être, écouté James Murphy ; et « No Place » (censé avoir été composé à la dernière minute pour faire le nombre), se révèle un tube synth-punk-noise qui générera des pogos monstres en fin de concert.
Frustration est donc un lion d'âge adulte qui n'a pas du tout l'intention de finir en descente de lit, et de subir les injures du pot de chambre. Il paraît que des roquets dont tout le glapissement ne porte que par la grâce de l'amplificateur médiatique, et qu'on désarmerait tout à fait en leur ôtant leur MacBook, continuent de parler du bon temps d'avant. Le roi de la jungle est venu remettre de l'ordre dans la savane, en rappelant aux touristes qu'on ne vient pas chez lui en observateur, comme dans un vulgaire parc naturel. Et l'histoire du rock peut bien aller se gratter, car nos nerfs amollis veulent se tendre encore une fois, et nos voix se perdre, et nous voulons bien refaire une centaine de stage-dive foireux si c'est pour revoir Frustration mettre une salle en transe comme à la dernière Villette Sonique, avec Sleaford Mods, leurs camarades de social-class. C'est pour cela, uniquement pour cela, que nous acceptons de nous abandonner à la musique, cette chose intrusive qui ne nous demande jamais notre avis. Le reste, c'est le bruit blanc des discussions vaniteuses, qui surcharge le fil d'actualité de nos âmes. De la merde, quoi.
Pierre Jouan
////////////////////////////////////////////////////////////////
Introducing them for the umpteenth time would be disrespectful. But reminding everyone of why they're essential can't hurt. They're closely intertwined with Born Bad's rise to fame, being their first ever release, they're seen as the caring big brothers of the French indie scene. Their pathway in itself is symbolic: hailing from the garage closed circuit from the 90s, they gave up the tattoos and brilliantine rock to try something different –at the crossroads of punk and cold wave, of Métal Urbain, Killing Joke and Joy Division, while we were all rediscovering France's synth-wave heritage with the BIPPP and Des Jeunes gens mödernes compilations. And five fellows not particularly renowned for their technical skills found themselves invested with a peculiar grace, becoming avant-gardist just as they were entering their forties, and showing the way to a whole generation of bands that suddenly became aware that it was possible, even here, in our star-crossed France. Critical acclaim, high sells, delighted crowd: the rest is history.
Ever since, nostalgia has kind of lost its appeal. We grew fed up of reading in the rock museum press that nothing valuable had been recorded since 1967, and we figured out that all things considered, we probably had better things to do than picking the patterns on our wallpapers or our Italian ties. It was time to get back into the pit, not looking back, and getting numb on something that is ours. The excitement of listening to the latest garage hit boys has well faded (the next band trying to emulate Thee Oh See's repertory can already consider itself dismissed), but it is intact when it comes to lend an ear to Empire of Shames, the third album by Frustration. It is "only" their third album in over 15 years of existence, the defining sign of bands that don't ride any wave but would rather dig their very own hole in the wall of legends, and hang there their plaque of best craftsmen in the industry.
They crushed mountain chains on Relax (2008), uncovered new continents and rainforests with Uncivilised (2012), so it's only logical they now project to terraform Mars planet with this album that celebrates their return to a cold hostility that echoes the one of punks going by the name of a Polish capital city. "Dreams, Law, Rights and Duties", "Just Wanna Hide" and "Excess" are punches in the knees as signs of welcome from Fabrice, whose voice wanders from a Curtis-like spleen to a cockney spit. If "Arrows Of Love" sounds like the album's break, this mesmerising Smiths-like ballad that turns into a proletarian anthem is one of the peak in the album. "Mother Earth in Rags" will undoubtedly be a hit, given its harangue as baroque and dramatic as a speech from Lenin you would hear in an opera about communism; "Cause You Runaway" shows that our lads have also listened to James Murphy; and "No Place" (a last minute addition) is a synth-punk-noise gem that will generate one hell of a pogo at the end of their next concert.
Frustration is now this fully grown-up lion that has no intention of ending up as a bedside rug. The grouches that you only hear when the press hands them a megaphone, and that would be disarmed if their MacBook were taken away from them are still talking about the good old days. The king of the jungle is back to restore its order, reminding tourists that coming here as a casual observer is not an option, because this is no ordinary regional park. The great history of rock can take a hike because our softened nerves are yearning to be tense one last time, our voices get lost, and we want more of those poor attempts at stagediving if only we can see Frustration one more electrify a crowd like they did at the latest Villette Sonique, with their social-class comrades of Sleaford Mods. And this, is the only reason why we agree to give in to music, this intrusive thing that never asks for our advice. The rest is just a background noise of conceited babbling saturating the feed of our souls. Bollocks, basically.