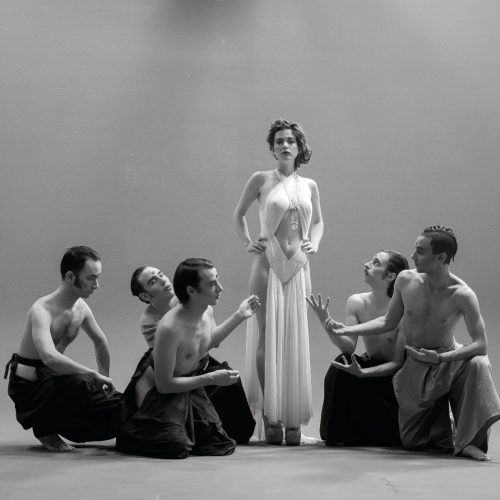 On le sait, depuis des débuts fracassants en 2010 avec la doublette magique Sur la planche et Télégraphe, La Femme est l'avenir de la pop française. Rarement groupe d'ici n'aura connu une ascension aussi fulgurante, parcourant l'Hexagone comme les États-Unis avec fougue et passion, énergie et simplicité. De l'underground au grand public, La Femme a bousculé tous les codes en vigueur, mélangeant les genres musicaux (cold wave, synthpop, musique surf, chanson yéyé…) avec une fraîcheur communicative, une vitalité renouvelée. Des morceaux comme Anti-taxi ou Nous étions deux font désormais figure de rengaines éternelles.
Trois ans après Psycho Tropical Berlin (2013) – mémorable premier LP, couronné d'une Victoire de la musique pour « l'album révélation de l'année » –, le groupe le plus insaisissable de sa génération sonnera l'heure de la rentrée le 2 septembre. La Femme compte toujours six membres avec ses deux têtes pensantes Marlon Magnée (chant, clavier) et Sacha Got (chant, guitare), Clémence Quélennec (chant, clavier), Sam Lefèvre (basse), Lucas Nunez Ritter (percussions) et Noé Delmas (batterie). Pour passer le cap du second album, les musiciens prolixes ont composé une trentaine de titres depuis 2013. Seize chansons, au final, ont été mixées par Sonny Diperri (Animal Collective, Hanni El Khatib) et Stéphane "Alf" Briat (Air, Aline, Mustang), déjà aperçu au générique de la discographie de La Femme.
Dévoilé par deux premiers singles – l'electro psyché Sphynx publié quelques jours avant un Olympia printanier à guichets fermés, le tubesque et bien nommé Où va le monde ? paru en pleines inondations –, Mystère est un disque à la fois riche, mature et bigarré. Comme quoi, ces vingtenaires intrépides ont de la réserve et du ressort. Ils en témoignent d'ailleurs explicitement dans l'avant-propos du livret. Plus posé et moins virevoltant que son prédécesseur, mieux écrit et soigneusement arrangé, cet album porte tout l'ADN de La Femme : son, chanson, incarnation.
À propos d'incarnation (vocale), de nouvelles interprètes apparaissent aux côtés de la chanteuse officielle Clémence Quélennec, des habituées Clara Luciani et Jane Peynot. Elles s'appellent Naomi Greene, Mathilde Marlière, Angela Hureau, Sarah Ben Abdallah ou Ambre Hazlewood. Des voix féminines qui se mélangent aux chants de Marlon Magnée et Sacha Got dans des PACS multiples. « Mais où va le monde ?/(…)Où sont mes vrais amis ?/Pourquoi je me méfie/Qu'a-t-on pu bien faire de tous ces sacrifices ? », interrogent fort à propos ces brillants auteurs. Car le répertoire de La Femme s'écrit ainsi, au rythme de la vie, de l'amour, des rêves insensés et des désillusions quotidiennes. « Le présent est la fin du passé et le début du futur… », comme ils aiment à le répéter en chœur, dans cette relation qui tient autant de l'amitié indéfectible que de l'émulation artistique.
Comme à l'accoutumée, La Femme n'a pas son pareil pour décocher des flèches, des fulgurances, des images mentales. « Allez réveille-toi montre-leur que personne ne choisira pour toi la place que tu occuperas dans cette société » (Septembre) ; « Elle ne t'aime pas ciao Bella/Oublie la haine, poursuit ta route laisse-la faire la sienne » (Elle ne t'aime pas) ; « Je veux partir ailleurs que sur Terre dans une station interplanétaire, sur la lune, Pluton, Neptune ou Jupiter, qu'on me laisse en paix des mycoses et des parasites » (Mycose). En élargissant son spectre musical, la formation donne à entendre de nouvelles références, comme l'influence prégnante d'Ennio Morricone, l'incursion disco sur SSD (en souvenir des mois écoulés dans le quartier de Strasbourg Saint-Denis), le lyrisme lysergique du Velvet Underground ou encore une pluie de cordes sur quelques morceaux. Mystère se referme sur La Vague, une longue plage de treize minutes, inspirée par Brian Eno et Pink Floyd, un solo de guitare et l'adolescence passée sur la côte basque. Toujours en phase avec son époque, La Femme reste cette offrande pour la pop française. Un Mystère à suivre passionnément.
////////////////////////////////////////////////////////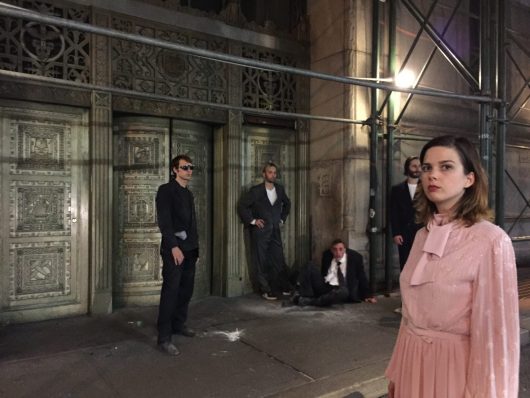 Direct from the Parisian overground French pop connoisseurs La Femme will release new album Mystère on the world this September. Hailing from Le Pré Saint Gervais and Ivry-sur-Seine's winding rues, La Femme have made a huge mark on modern Paris's cultural landscape, with the two sides of the city – the glamour and the grit – engrained in their music.
Ever since, the release of their debut album Psycho Tropical Berlin, that topped the French digital charts and the band appeared on national television as the Best New Band of the year at the French Music Awards, their rise has only gained momentum with fans including directors Jacques Audiard and Romain Gavras to legends Jean Michel Jarre and Hedi Slimane. More importantly, the album hit a note with the country's young population – the group will headline a 6000-capacity arena hometown show this coming January.
Returning with a more psychedelic sound and a range of guest vocalists that slice through the starkest of electro beats, Mystère sees La Femme celebrating all that's wonderful about their city. From the chattering tête-à-tête heard on 'Conversations Nocturnes' that leads into the throbbing disco beat of 'SSD' – a direct reference to the pulsing nightlife hotspot and multi-cultural district Strasbourg Saint Denis where the band continue to work and play equally hard – "are you ready to go out, under the threat of the town," the lyrics translate. "You don't want to give in and sometimes you need a bit of time to allow for your brain to take in the information and feel better about what's happening," they say. 
Mystère's true intrigue however, lies in La Femme's enigmatic questioning of falling in and out of love. Like a compendium of short stories describing the loves and losses of every boy and girl, each song breaks down language barriers through inventive and astute knack for melody. The elation of a passionate encounter is captured on 'Tatiana's ricocheting electronics whilst melancholic acoustic guitar echoes the emptiness felt in 'Le Vide Est Ton Nouveau Prenom', the sorrow of a war-torn couple in 'Psyzook' and 13-minute wonder 'Vagues' is dripping in atmosphere recalling the band's sun-kissed memories of their early days surfing in Biarritz. "Ou Va Le Monde is not about the matrix system… it's about life and love. Because now is the end of the past and the beginning of the future," explains guitarist Sacha Got.
Whether delicate or drenched in dirty disco, the impact of Clémence, Marlon and Sacha's gothic mantras mixed with the guest vocal talent of Clara Luciani, Jane Peynot, Naomi Greene, Mathilde Marlière, Angela Hureau, Battista Acquaviva and Sarah Ben Abdallah is perhaps where La Femme's true meaning can be found. "Nothing is frozen. La Femme is a solar system," explains Sacha of his band's all-inclusive philosophy. "We don't like the idea of having a leader or a chief: everyone brings to the band what they can and want….. It also suggests that the woman is a mystery."
Recorded between a castle in Brittany and a Paris basement before being finished up with Sonny Diperri (Animal Collective) in LA, Mystère once again sees backgrounds blurred and worlds collide. The band's chic retro-futurist surf-pop sound possesses the same dose of glamorous punk stomp as before, but this time around its layered with an elegant fusion of influences from Ennio Morricone, Marie Et Les Garcons' disco-rock touch and the lysergic romanticism of The Velvet Underground. Through increased use of strings and further exploration of sound, Mystère also incorporates the band's new love of oriental sounds, Turkish disco, Tuareg blues, medieval psychedelia to mainstays Brian Eno and Pink Floyd.
Recently unveiling the hallucinogenic video for the first single, the electro-psychedelic single 'Sphynx,' La Femme will continue spreading their French words with energy, style and passion when they take to the road. In October they return to the West Coast of America, a region that in their early days they spent a lot of time traveling, honing their surf sound. Before they head to South America and returning to Europe and to London for a big headline show at the Shepherd's Bush Empire on 17th November.
"Slow down, take it easy, put Mystère on the record player and allow yourself to be taken far away…" they say. Liberté, égalité, fraternité. Everyone can be a part of La Femme's world – and it has never felt more alive.