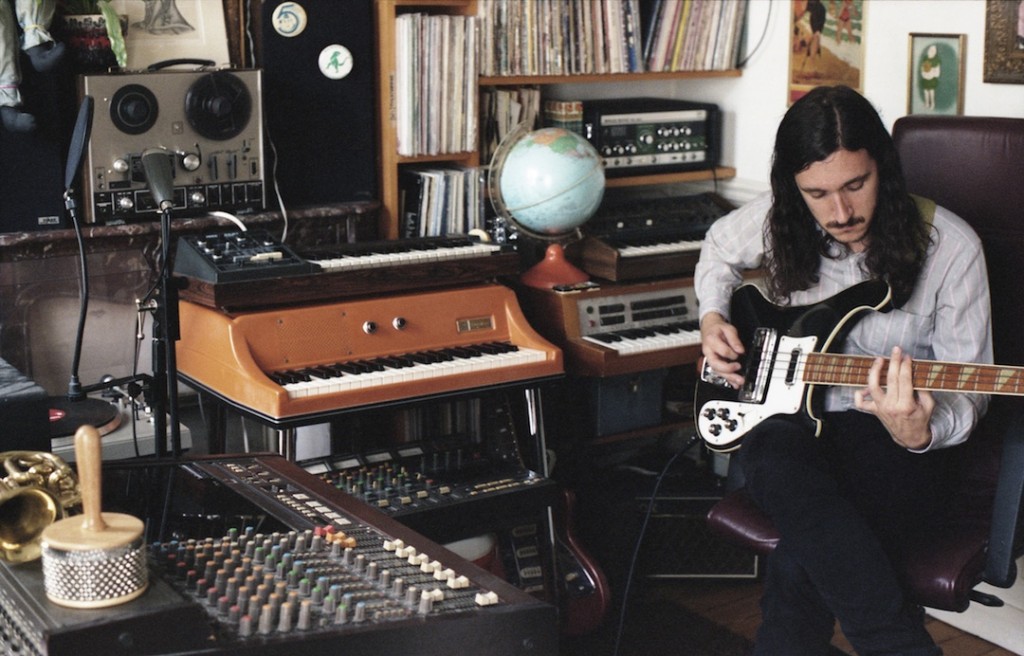 Le monde de la pop se divise en deux catégories. D'un côté, les groupes qui font du vieux avec du neuf. On les connaît, on a les noms. Bâillements. De l'autre, ceux qui font du vieux avec du vieux, retardataires de guerres qu'ils n'ont pas vécu, à la recherche d'époques qu'ils n'ont pas connu et de consoles analogiques chinées sur eBay dans l'espoir de sonner comme le Velvet Underground. Tout aussi pathétiques que les premiers, le tout doublé d'une obsession pour le mimétisme qui donne à leur avenir un gout de Petit Beurre trempé dans du formol.
« La mode, c'est ce qui se démode » disait Cocteau. S'il est mort sans avoir pu écouter le premier album de Forever Pavot, on doit bien reconnaître au poète une prophétie : la classique opposition entre passé et futur est complètement conne. Sur ce registre, Forever Pavot s'en tire avec les honneurs. Faire du neuf avec du vieux, ou plutôt faire du beau grâce à des vieux, c'est toute l'ambition de « Rhapsode », disque où les sixties d'Ennio Morricone, Francis Lai et autres compositeurs de musiques de films trouvent enfin le chanteur qui leur manquait.
Mais attention, sous les pavés de ces compositeurs soixante-huitards, pas de plagiat. Comme la vieille pierre est un investissement sur le long terme, on aurait envie de décrire Emile Sornin, leader de Forever Pavot comme un artisan du solide, à la fois pro de la bidouille et démolisseur de cloisons. Ses armes, il les a faites au sein d'un premier groupe – feu Arun Tazieff – où l'envie d'être le chef d'orchestre se fait déjà sentir. Emile y développe déjà les techniques chères à François de Roubaix : rêver ses chansons, les bricoler solo et piste par piste, puis finalement les accoucher dans le studio de ses frères de cœur, les toulousains d'Aquaserge. Le résultat s'avère à la hauteur des nuits blanches : là où d'autres se contentent de copier le passé, Emile empile les mille-feuilles sonores, réhabilite le clavecin dans ce monde étriqué qu'est devenu la pop et compose des morceaux arrangés (Electric Mami) qui donnent l'impression d'entendre Strawberry fields forever chanté par les Zombies. Après un premier 45T « Christophe Colomb » autoproduit au printemps 2013, « distribué gratuitement avec des chocolats » puis repressé par Frantic City, l'histoire de Forever Pavot commence à prendre forme autour d'un nouveau groupe. Viendront deux autres maxis (le premier chez les Anglais de Sound of Salvation en janvier 2014, le second en avril chez Requiem pour un Twister), tous pressés à si peu d'exemplaires que déjà le mot CULTE s'écrit en gros sur le front de cet Emile aux cheveux longs.
Il y a donc un nouveau locataire dans la résidence Jean-Claude Vannier. Du genre discret, mais plutôt bruyant. Guitares fuzz, farfisa endiablées, lignes de basses mixées bien en avant dans la tradition Burgalat, parties de flutes (parties de flutes !), cavalcade de chevaux sur Miguel El Salam, « Rhapsode » c'est le grand Western d'intérieur filmé par l'ORTF, à tel point qu'on s'attend parfois à voir surgir Jean-Christophe Averty surgir de derrière une enceinte, caméra et joint dans la main. Encore une fois, l'habit ne fait pas la moine ; le nom Forever Pavot n'est pas né d'une apologie des drogues : « c'est parti d'une blague, un jour j'ai lu trop vite un "flower power" très mal écrit sur une trousse d'écolier. Ca m'a fait rire… » dit Emile. Fan de prog, de jazz mais également de psyché turc, il est aussi clippeur pour d'autres (les vidéos de Disclosure ou Dizzee Rascal, c'est lui) et prouve à chaque instant que les apparences sont souvent trompeuses. « Je me sens un peu comme Stereolab ou Broadcast, ces artistes qui puisent dans le passé pour faire quelque chose de nouveau (…) Il y a une dizaine d'années je faisais du punk hardcore, ensuite j'ai fait de la chiptune, de la pop, des compos garage / folk enregistrées sur K7, et maintenant des choses inspirées des musiques de films 60's…la seule ligne directrice ce sont mes envies. personne ne pourra m'emmerder si je veux faire un album de reggae dans 3 ans ou un album de chanson française. Parce que c'est moi qui décide ». Etre moderne, c'est être maitre de son temps. Quant au paradis d'Emile, il est évidemment pavé de bonnes intentions.
BESTER
 ////////////////////////////////////////////////////
The pop world is divided into two categories. On the one hand, groups that create new things out of old ones. We know them, we have the names. Yawn, yawn. On the other, those who create old things with old ones, left behind by the wars they have not lived, in search of times they have not known and consoles on eBay in the hope of sounding like Velvet Underground. Just as pathetic as the first, the whole thing coupled with an obsession for imitation which gives their future a taste of an old biscuit dipped in formalin.
"Fashion is what goes out of fashion", used to say Cocteau. Although he died without having been able to listen to the first Forever Pavot's album, we must grant the poet the gift of prophecy: the classical opposition between past and future is completely stupid. On these grounds, Forever Pavot has done honourably. Create new things with old ones, or rather make something beautiful with the old, it is the ambition of "Rhapsode", record where Ennio Morricone, Francis Lai and other film music composers from the 60′s find at last the singer they were missing.
But beware, under the cobblestones of these 68′s composers, no plagiarism. In the same way that old stone is a long term investment, one is tempted to describe Emile Sornin, Forever Pavot's leader, as a maker of things solid, expert in both messing around and demolishing walls. His got his trainingwithin a first group – defunct Arun Tazieff – where the desire to be the conductor is already being felt. Emile is already developing techniques dear to François de Roubaix: dreaming his songs, fiddling them solo track by track to eventually produce them in his closest buddies studio, the Aquaserge from Toulouse. The result is worth all these sleepless nights: where others merely copy the past, Emile stacks up sound, rehabilitates the harpsichord in this narrow world that has become pop music. He composes arranged pieces (Electric Mami) that give the impression of hearing Strawberry Fields Forever sung by Zombies. After an initial 45 rpm, "Christophe Columb", which he produced in the spring of 2013, and which was"distributed free with chocolates" and then repressed by Frantic City, the story of Forever Pavot begins to take shape around a new group. Then will come two EPs (the first with the English from Sound of Salvation in January 2014, the second in April in Requiem for a Twister), all released in such limited numbers that already the word CULT writes itself in large letters on this long-haired Emile's forehead.
So there is a new tenant in the Jean-Claude Vannier residence. The discreet type, but rather noisy. Fuzz guitars, wild farfisa, bass lines mixed well ahead in the Burgalat tradition, flutes playing, horse cavalcades on Miguel El Salam, "Rhapsode" is such a huge indoor Western shot by the ORTF ( 64′s to 74′s French Broadcasting Authority TV) that sometimes we expect to see Jean-Christophe Averty spring out from an enclosure, holding both a camera and a joint. But again, clothes don't make the man. The name Forever Pavot was not born of an apology of drugs: "It started as a joke. One day I read too fast a "flower power" poorly written on a school pencil case. It made me laugh", said Emile.
Fan of Jazz programming and of Turkish psyche, he is also shooting video clip for others (Disclosure's videos or Dizzee Rascal's) and proves at every moment that appearances are often misleading. "I feel a bit like Stereolab or Broadcast, artists who draw from the past to make something new (…) Ten years ago or so, I was doing hardcore punk, then I did chiptune, pop, compos garage / folk recorded on K7, and now things inspired from the 60′s movie music … the only guideline are my desires. Nobody will be able to get in my way if I want to make a reggae album in three years or an album of French songs. Because I'm the one who decides."
Being modern is being master of one's time. As for Emile's paradise, it is obviously paved with good intentions.
BESTER