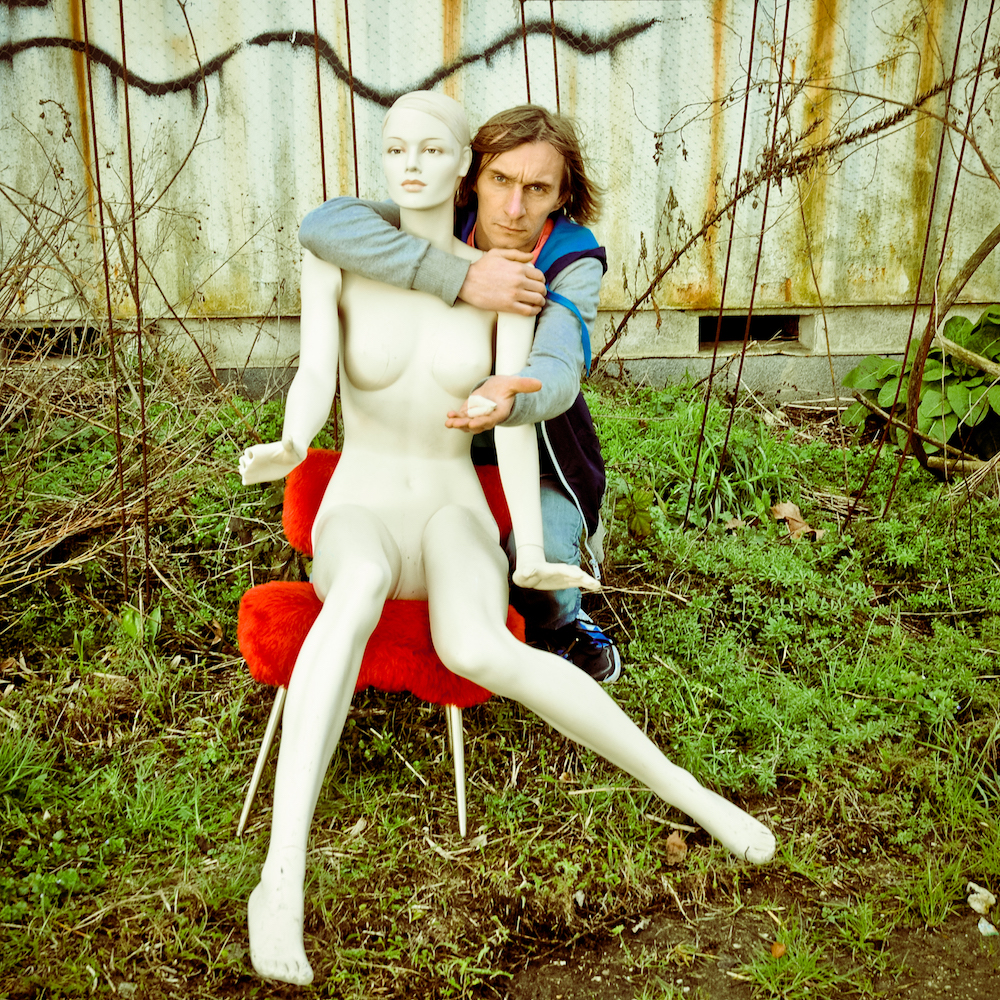 Alors que l'on continue de presser la poire à cool du garage-rock comme si elle devait couler éternellement, les matous les plus louches du quartier sont partis boire ailleurs. Assis sur un parpaing, une bière chaude à la main, dans la pénombre d'une cave de banlieue,  ils préfèrent assister aux soubresauts malades d'une chanson française qui dégénère. Fabriquée avec du matériel de récup' et des miettes de poésie, cette complainte des bas-fonds qui a pour artiste-étendard un Noir Boy George, et pour compagnon de galère un Jessica93, remplit régulièrement des salles minuscules et mal sonorisées, à la grande joie perverse de tous ceux que le festivisme ambiant a rendus méfiants, et qui ne sont pas exactement persuadés de vivre dans la meilleure des époques.
Quand on a appris à jouer en tripotant les instruments pour enfants des Nouvelles Galeries, faute de moyens, on accouche d'une musique bricolo qui ne mise pas sur la virtuosité, mais détourne ce dont elle s'empare, et vous tend le résultat comme un jouet déglingué imprégné de magie. Nicolas Belvalette, dit Usé, ne joue pas vraiment de la guitare, et d'ailleurs c'est à peine une guitare. Il tape dessus, répète un accord ad nauseam, colle une cymbale en zinc sur le manche, et joue six instruments en même temps. Avec Headwar, qui comprend trois autres membres pareillement versés dans les arcanes du rythme et la fonction multitâche, il pulvérise les petites étiquettes « noise », « rock » et « techno » qui nous servent à apprivoiser le bruit, pour nous ramener aux fondations du son, aux pulsations primitives qui préexistent au langage ou à la mélodie, quand les battements d'un autre cœur constituaient tout notre univers sonore, du fond de notre condition amniotique.
Nico a longtemps géré une salle de concert à Amiens, l'Accueil Froid : quand l'endroit a fermé, il s'est présenté aux élections municipales sous l'étiquette d'un parti fantaisiste, le Parti Sans Cible, et récolté 2,17% des voix. Dans la foulée, il est élu « Amiénois de l'année » par les lecteurs du Courrier Picard. L'Accueil Froid rouvre, ailleurs. Une ligne de plus dans une vie qui ressemble déjà à un roman. D'une santé vacillante, victime des accidents les plus surréalistes (lors d'un festival, il se fait rouler dessus alors qu'il dort dans sa tente), Nico n'a jamais semblé avoir de plan de carrière, et passe sa vie sur les routes. Multipliant les projets (Headwar, Les Morts Vont Bien, Roberto Succo, Yvette Corner But, Sultan Solitude, on en passe), il vivote dans cette interzone musicale qui est comme une grande famille de la débrouille, où la sortie d'une K7 ou d'un EP bandcamp est un événement en soi.
« Usé », son projet solo depuis 2011, sort aujourd'hui un album sur Born Bad, Chien de la casse. Sur la pochette, un van poussiéreux dans le demi-jour d'église d'une grange abandonnée, et des clébards résidents rassemblés à la hâte : rien n'est inventé. Pourtant, les couleurs sont chaudes, l'ambiance est détendue. Pas de misérabilisme. On envie presque celui qui, au centre de l'image, a la chance de se livrer quotidiennement à cette joie enfantine qui consiste à taper le plus fort possible, sur n'importe quoi, dans un lieu vierge au milieu des animaux. La musique d'Usé ressemble à cette free-party que l'on a cherché dans une nuit épaisse comme du goudron, au cœur de la forêt, en se fiant au grondement sourd qui semblait émaner du sol : sauvage et agressive, mais aussi familiale, accueillante, touchante dans son dépouillement. Plaisir d'abdiquer devant la toute-puissance de la transe, jouissance régressive des tambours qui foutent le bronx, ritournelles légères, entêtantes, textes rythmiques comme un poème Dada : tant pis pour demain, quand il fera jour, car tout ici tremble d'une excitation qui ressemble à la vie, et que l'on ne trouvera pas ailleurs.
Il y a sept titres sur Chien de la casse, dûment introduits par les grognements mauvais d'un bâtard ivre de haine, probable cerbère d'une caravane de dealer de meth dans l'Indiana. Sur six morceaux, Usé semble écrire une ode aux entrées par effraction dans les décharges pour aller cogner sur des bidons rouillés jusqu'à les crever. Seule « Sous mes draps » relève de la comptine triste, mais quitte toutefois les terres du réalisme social pour les hauteurs brumeuses du film d'horreur de fête foraine. « C'est si lisse » conclut l'album sur une alarme à incendie et des aboiements humains, dans une ambiance de messe noire saturée de backward tapes : le rêve prend fin dans le chaos, c'est bientôt le jour. La vraie violence commence. On se voit au squat' la semaine prochaine.
Pierre Jouan
///////////////////////////////////////////
While some are still milking the garage rock for all its cool like it will never dry out, the sleaziest alley cats are gone drinking somewhere else. Sitting on a cinderblock in the darkness of a cave in the suburbs, drinking out of a warm beer, they'd rather witness the convulsions of a degenerating French song. Crafted with some second-hand gear and crumbs of poetry, this lament from the slums has Noir Boy George as its flag bearer, and Jessica93 as companion of misfortune. You will hear it filling the air of tiny and barely sound-proofed venues, to the greatest and perverse delight of all those that the prevailing festivism has made wary, and not quite convinced that we live in the best of times.
When you've learnt music by fiddling with cheap kids' instruments from the shopping mall, you end up with a tinkered tune that doesn't rely on virtuosity, but hijacks anything it gets its hands on, and offers you the result in the shape of a wrecked toy imbued of magic. Nicolas Belvalette, known as Usé, doesn't really play the guitar, and that is barely a guitar anyway. He hits on it, strikes the same chord ad nauseam, sticks a zinc cymbal on the neck, plays six instruments all at once. With Headwar, that includes three members equally versed in the mysteries of rhythm and multitasking, he atomizes the labels of "noise", "rock" and "techno" that help us taming noise. He brings us back to the core foundations of sound, those primitive pulsations pre-existing language or melody, when the beating of our heart was all there was to our sound universe, at the bottom of our amniotic condition.
For a while Nico managed a concert venue in Amiens, l'Accueil Froid : when the place closed down, he ran in some local election under the label of a fanciful party, le Parti Sans Cible, and got 2,17% of the votes. Right after that, the readers of local newspaper Courrier Picard elected him their personality of the year. L'Accueil Froid reopened, somewhere else. Just another line in a life that already resembles a novel. With a delicate health, subject to the most surreal accidents (during a festival, he got ran over by a car while he was sleeping in his tent), Nico never seemed to have a career plan, and spends half of his life on the road. He juggles with numerous projects (Headwear, Les Morts Vont Bien, Roberto Succo, Yvette Corner But, Sultan Solitude, and many others), he ekes out in this musical interzone that is the great tribe of the DIY, where the release of a cassette or a bandcamp EP are family events.
"Usé", his solo project since 2011, releases today an album on Born Bad, Chien de la casse. On the cover, a dusty van stands in the half-light of an abandoned barn, with a pack of dogs hastily gathered : nothing here is made-up. Yet, the colors are warm, the mood is relaxed. No pity party here. We almost envy the guy at the centre of the picture, who is lucky enough to spend his days indulging in the child-like pleasure of hitting anything the hardest you can, in a pristine environment solely surrounded by animals. Usé's music is like that free party that we've looked for in this pitch-dark night, in the heart of the forest, led by the thumping noise coming from the ground : wild and aggressive, yet welcoming and touching in its bareness. You surrender to the mighty power of the trance, embrace the regressive pleasure of the drums wreaking havoc, the flimsy jingles, the texts rhythmic as a Dada poem. The heck with tomorrow, when the day will rise, because right now everything shivers with a frenzy that feels like life itself, and you won't find this anywhere else.
There are seven tracks on Chien de la casse, duly introduced by the spiteful grunts of a pissed-off mongrel, most likely a Cerberus guarding the trailer of a meth dealer in Indiana. Over the course of six tracks, Usé sounds as though he is writing an ode to break-ins in garbage dumps with the sole purpose of banging on rusty cans until they burst. Only "Sous mes draps" echoes like a sad nursery rhyme, but leaves the realm of social realism to wander on the foggy heights of a fairground horror flick. "C'est si lisse" concludes the album with a fire alarm and some human barking, in an atmosphere of a black mass saturated with backward tapes : the dream ends up in chaos, it's almost day. Actual violence begins. I'll see you next week at the squat.
Pierre Jouan / translation Diane Lebel