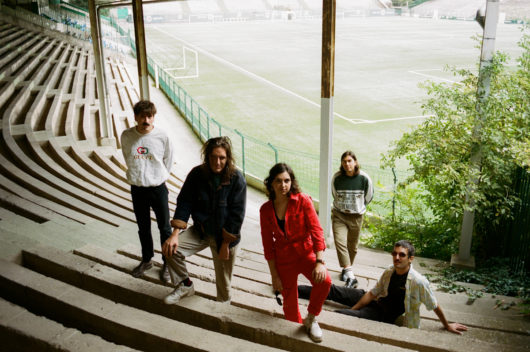 English text below
Je vais dire « Je » parce que je crois que je suis incapable d'écrire sur ma musique autrement qu'à la première personne. Je joue de la batterie depuis que j'ai quinze ans et j'ai toujours eu des groupes depuis. Même si j'y toujours contribué artistiquement, à différents degrés, ma latitude d'action, d'un point de vue créatif, a toujours été bridée par le fait que je sois batteur. Comme beaucoup de gens, j'ai appris à jouer très approximativement de la guitare et du clavier, et j'ai passé des années à ressasser des obsessions et des motifs récurrents, dans ma chambre et dans ma tête, sans rien faire de ça, et en sachant que même si j'étais et suis toujours extrêmement impliqué dans mes groupes passés et présents (Skategang, La Secte du Futur, Marietta dans une moindre mesure, et Bryan's Magic Tears), la musique qu'on faisait ne me représentait qu'assez partiellement. J'ai toujours écouté énormément de reggae, de dancehall, de musique du Ghana, du Nigéria, du Congo, et globalement de la musique qui se base plus sur la répétition et l'intention que sur la composition, et c'est quelque chose que j'avais jamais vraiment pu développer là-dedans.
En 2015 mon frère et ami Benjamin Dupont, l'humain qui se cache derrière Bryan's Magic Tears, a emménagé dans ma colocation / arche de Noé du 35 rue Clignancourt, dans le 18e, et c'est lui qui a tout débloqué en me montrant comment m'enregistrer tout seul ; et un matin de septembre, allongé sur le dos, j'ai vu la lumière.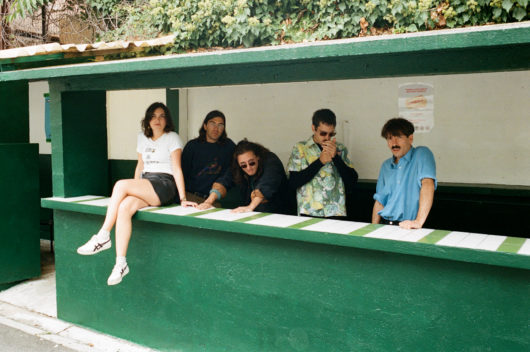 C'est vraiment un monde nouveau qui s'est ouvert à moi, je me suis mis à enregistrer à un rythme assez intensif, en me laissant simplement porter par ce que j'avais dans la tête et dans les doigts depuis des années ; j'ai accumulé beaucoup de matériel dont une grande partie de bouts de morceaux inachevés, et j'ai essayé – j'essaie encore – de comprendre moi- même où je voulais en venir et d'apprendre à systématiser et à canaliser mes obsessions pour en faire quelque chose de personnel.
Le fait d'enregistrer beaucoup, sans contrainte de format ni de groupe ni d'attentes quelconques, en me laissant totalement porter par ce qui sortait sur l'instant, ça m'a permis de me donner un certain aperçu de moi-même ; je ne fais pas partie des gens qui composent de la musique en ayant une idée de là où ils veulent aller, mais à force de répéter l'exercice, un truc cohérent finit par se dessiner. Je dirais que ça oscille, pour la musique, entre krautrock synthétique, dancehall lo-fi, Manchester sound enregistré avec des jouets, rock à la Velvet et Memphis rap pour enfant ; et entre Les Négresses Vertes et Julien Gracq pour les textes. J'écris toujours la base de mes textes sans musique, et j'y accorde beaucoup d'importance ; le français est devenu évident parce que j'ai envie de dire quelque chose de vrai et que j'en serai incapable autrement – même si le texte de « The Fur » est en anglais, mais c'était pour séduire une fille (ça n'a pas marché), et ça ne se reproduira plus. C'est mon amie Paula, de J.C. Satan et Succhiamo, qui chante sur « Mariposa » et « Venera 16 », parce que je n'avais aucune idée de quoi faire là-dessus ; je lui ai envoyé les morceaux et elle a chanté dans son téléphone, c'était génial alors on l'a enregistré.
Ce premier album, c'est un espèce de best-of des années 2015 à 2018, les chansons qui tenaient le mieux debout, celles sur lesquelles j'avais du texte, les brouillons les mieux achevés, en gros. Je dois son existence à mes amis du micro- label Megattera qui, à force d'entendre mes chansons chez moi la nuit, ont décidé les premiers de les sortir confidentiellement en cassette ; sans eux, elles seraient encore dans mon disque dur. Sous le charme, Born Bad Records confie alors à Olivier Demeaux de Cheveu/ Heimat la mission de mixer les « meilleurs » morceaux pour leur donner le lustre qu'ils méritent et faire de ces quelques titres foutraques et éparses un album à part entière. Adam Karakos, du Villejuif Underground, Guillaume Rottier, de Rendez-Vous, Nikolaj Boursniev, de Quetzal Snakes, et Milia Colombani, qui joue dans la moitié des groupes de Paris.
Pleasure Principle se situe quelque part dans les limites d'un triangle formé par Francis Bebey, Add (n) To X et Ludwig Von 88 ; c'est une course solitaire vers l'extérieur, une ode à la fuite en avant, un moyen de s'échapper dans l'attente paisible du grand flash libérateur. Je me retrouve souvent à danser comme un singe oublieux du monde quand j'enregistre la nuit dans ma chambre, et j'espère provoquer la même réaction chez les gens.
Paul Speedy Ramon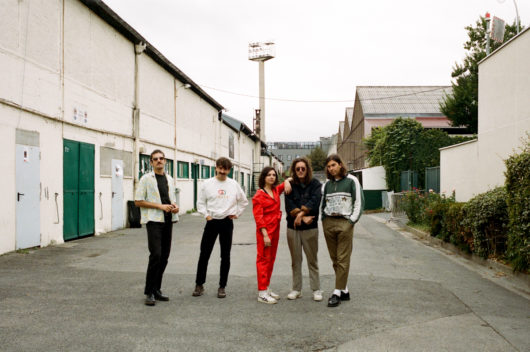 ////////////////////////////////////////////
 I'm going to say "I" because I think I can't write about my music other than in the first person. I've been playing drums since I was fifteen years old and I've always had bands since. Even if I always contribute artistically, to different degrees, my latitude of action, from a creative point of view, has always been limited by the fact that I am a drummer. Like many people, I learned to play very approximately the guitar and keyboard, and I spent years going over obsessions and recurring patterns, in my room and in my head, without doing any of that, and knowing that even though I was and still am extremely involved in my past and present bands (Skategang, La Secte du Futur, Marietta to a lesser extent, and ), the music we were making was only partially representative of me. I've always listened to a lot of reggae, dancehall, music from Ghana, Nigeria, Congo, and overall music that is based more on repetition and intention than composition, and that's something I could never really develop in there.
In 2015 my brother and friend Benjamin Dupont, the human behind Bryan's Magic Tears, moved into my flat share / Noah's Ark at 35 rue Clignancourt, in the 18th arrondissement, and it was him who unlocked everything by showing me how to record music by myself ; and one September morning, lying on my back, I saw the light. 
It's really a new world that's opened up to me, I started recording at a pretty intensive pace, just letting myself be carried away by what I've had in my head and fingers for years; I've accumulated a lot of material, including a lot of unfinished pieces, and I've tried – I'm still trying – to understand for myself what my point really is and to learn how to systematize and channel my obsessions to make it something personal. 
Recording a lot, without any constraints of format, group or expectations, by letting myself be totally carried away by what was coming out in the moment, it allowed me to give myself a certain insight into myself; I am not one of the people who compose music by having an idea of where they want to go, but by repeating the exercise, something coherent ends up taking shape. I would say that it oscillates, for the music, between synthetic krautrock, dancehall lo-fi, Manchester sound recorded with toys, rock à la Velvet and Memphis rap for children; and between Les Négresses Vertes and Julien Gracq for the texts. I still write the basis of my lyrics without music, and I attach a lot of importance to it; French has become obvious because I want to say something true and I would not be able to do it otherwise – even if the text of "The Fur" is in English, but it was to seduce a girl (it didn't work), and it won't happen again. This is my friend Paula from J.C. Satan and Succhiamo, who sings on "Mariposa" and "Venera 16", because I had no idea what to do about it; I sent her the songs and she sang on her phone, it was great so we recorded it.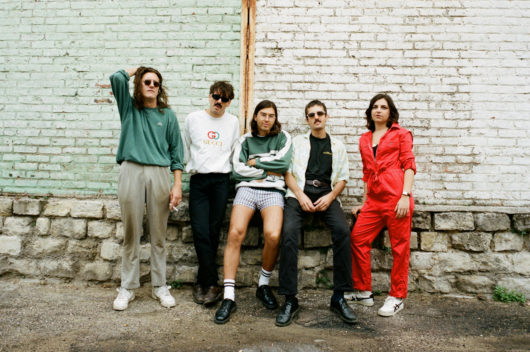 This first album is a kind of best-of from 2015 to 2018, the songs that held up best, the ones I had lyrics on, the best finished drafts, basically. I owe its existence to my friends at the Megattera micro-label who, after hearing my songs at home at night, decided to release them confidentially on tape first; without them, they would still be on my hard drive. Under the spell, Born Bad Records then entrusted Olivier Demeaux de Cheveu/ Heimat with the mission of mixing the "best" tracks to give them the lustre they deserve and make these few crazy and scattered tracks a full-fledged album. I asked Adam Karakos, from Villejuif Underground, Guillaume Rottier, from Rendez-Vous, Nikolaj Boursniev, from Quetzal Snakes, and Milia Colombani, who plays in half the bands in Paris, to play live with me.
Pleasure Principle is located somewhere within a triangle formed by Francis Bebey, Add (n) To X and Ludwig Von 88; it is a solitary race to the outside, an ode to the forward flight, a way to escape in the peaceful expectation of the great liberating flash. I often find myself dancing like a monkey who forgets the world when I record at night in my room, and I hope to provoke the same reaction in people.
Paul Speedy Ramon