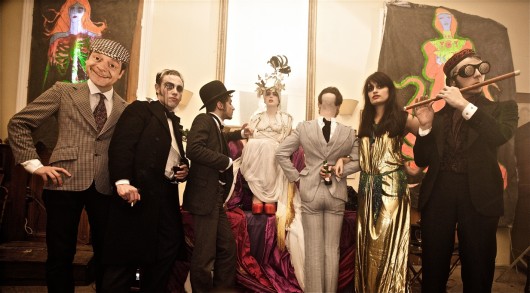 La Femme est une énigme. Une émanation sonore.
 Un groupe à tiroirs aux multiples visages.
La Femme ressort et c'est tout son spleen crasse qui macule les trottoirs gris de la ville,
dans une pluie synthétique dardée de saturations blêmes.
La Femme naît à Biarritz à l'aube des années X, quand Sacha et Marlon, munis d'une guitare et de Garageband, entament leurs premières compositions. Ils  s'essayent à divers styles, de la chanson française pop des années 60's / yéyé à la musique surf californienne. Ensemble ils triturent pianos, synthés et planches de surf. Marlon doit alors déménager à Paris, où il rencontre Sam, bassiste. Ils se font les dents avec S.O.S mademoiselle, groupe de rock français à l'ancienne avec Olivier Peynot au chant, tandis qu'à Biarritz, Sacha affute ses riffs de guitare et fait pousser la reverb avec le groupe de surf "Les Redoutables !".
Sacha, bac en poche, rejoint ensuite ses potes à Paris. Ils écoutent des groupes de cold wave français, Deux en Tête, et les groupes à synthé, Marie et Les Garçons surtout, qu'ils apprécient beaucoup. Et ils affinent leur propre style : surf wave, bizarre wave, strange wave, weird witch wave, silly mental wave ou 'Psycho Tropical Berlin'. Comme on veut, pourvu que ça se termine en vague.
Ainsi Sacha, Marlon et Sam créèrent LA FEMME. La Femme n'a pas de frontières, ni dans le style, ni dans les voix. Elle est une quête de nouvelles textures sonores, d'images et de sensations.
Ils montent le premier live du groupe en quelques jours quand Pandora Decoster leur propose de se produire sur une grosse scène pour une compétition de surf à Biarritz. Noé à la batterie et Clémence au chant les rejoignent. La Femme, encore floue et changeante, prend forme. On est en 2010, elle offre alors un premier tube plutôt bon enfant, qui se fredonne en sifflotant ou en surfant : 'Sur la planche'. La Femme se découvre : des garçons et des filles, autant de probabilités, pas mal de mystère et beaucoup d'énergie. Le groupe sort très vite son 2ème  EP auto-produit  « Paris 2012 », dont il réalise le clip.
A la fin de la vidéo, ils font exploser la tour Eiffel. Il est temps d'aller voir ailleurs.
Après avoir éclusé les bars de Paris, La Femme part en mode tournée riche en aventures avec une trentaine de dates aux U.S, puis dès son retour en France, joue au Festival des Inrocks, aux Francopholies de la Rochelle ou au Jazz festival de Montreux. Dans la foulée, bientôt rejoints par Nunez Ritter Von Merguez dit "la sauterelle" aux rythmes et à la danse et par la belle Clara Luciani au chant, La Femme se ballade un peu partout : d'outre-tombe à Berlin, en passant par Londres, Bruxelles ou encore Roubaix. Citoyenne et moderne, La Femme sillonne toute l'Europe.
Et pour autant, La Femme reste un mystère, car rien n'est figé dans son univers perpétuellement en mouvement.  Le groupe, tentaculaire, sera composé de 3 garçons (Marlon, Sacha, Sam) à temps plein et forcément dans le vent – des vagues de Biarritz au macadam de Paname -, rejoints en studio pour leur premier album par plusieurs chanteuses (Clémence, Clara, Marilù, Jeanne, au gré des envies, des octaves ou bien des dispos).
En Janvier cette année est paru un Ep quatre titres éponyme, illustré par un clip psyché double, petit court métrage épique et baroque de 11' : « La Femme / Hypsoline ». En Avril sortira le premier album du groupe, « Psycho Tropical Berlin »:
"donc voilà, c'est l'histoire d'un couple qui a échappé au chaos et qui essaye de survivre en veillant l'un sur l'autre" – le danger est partout (lit-on dans le livret)
Rock et pop, rococo bauhaus, sous influences multiples (Kraftwerk, Elli & Jacno…) La Femme n'a qu'une envie ; vous donner du plaisir. Généreuse et accueillante, elle vous tend sa main blanche ; si vous la saisissez, ce sera peut-être le frisson de votre vie.
///////////////////////////////////////////////////////////////////////////////////////////////////
La femme is a conundrum. A resounding expression. An episodic band with various faces.
La Femme shows up and it's all of her grimy spleen that stains the city's grey pavement,
 in a synthetic rain beamed by livid burstings.
 La femme was born during the X years in Biarritz, when Sasha and Marlon started composing on their guitars music they recorded on Garage Band. Together they ride surfboards, pianos and synthetiseur as they gave a try to various styles, from 60s yéyé French pop to Californian surf music. Marlon moved to Paris, and there he met Sam, who played bass. Together they formed SOS Mademoiselle along with Olivier Peynot, and played vintage French rock, as Sasha was practising his scales in reverb feed surf band « Les redoutables! »
After getting his grade, Sasha joined his friends in Paris, where they discovered French cold wave and synth pop, Marie & Les Garcons being one of their favourite. They polished a style that could be described as one of these following : Surf wave, Bizarre wave, strange wave, weird witch wave, silly mental wave or Psycho tropical Berlin ». In fact anything you want as long as it ends with « wave ».
And the boys created LA FEMME.
La Femme has no frontier, neither in her style nor in her voice. She's always on a quest for new sounds, images and sensations.
Joined in 2010 by drummer Noé  and female singer Clémence, La femme formed its first live roster in few days after French rider and artist Pandora Decoster asks them to play on stage for a big surf contest in Biarritz. From her hazy and changing background, La femme takes shape and release that same year its first anthem « Sur la Planche », a song that was made to be hummed and whistled while ridding a board.
La femme uncovers, boys, girls, plenty of option, a bit of mystery, loads of energy.
Later she released her second EP, Paris 2012. In the music video she produced for this song, she blows down the effeil tower as a symbol, it's time to go ans see something else.
 After swilling Paris bars, La femme goes for a tour in USA, en mode journey, and come back in France with improved reputation where they play for various festival. Soon joined by fancy rhythm drummer Nunez Ritter Von Merguez aka « La Sauterelle » and gorgeous singer Clara Luciani, La femme takes for a ride around Europe : from beyond the grave to Berlin, by London, Bruxelles and Roubaix.
Cryptic and Mysterious, La femme is in perpetual motion and the band, based around full time and up-to-date boys (Sasha, Marlon, Sam), invites over the course of its wish and needs in studio a whole cast of female singer : Clémence, Clara, Marilu, Jeanne…
 Sooner this year, La femme released a self titled EP, that went by along with a 11 minutes long psychedelic music video, an epic and baroque short film for tracks « La femme, Hypsoline », preceding the release of her first album in April : « Psycho Tropical Berlin »:
It's the story of a couple who slipped chaos and survives by watching each other. Le Danger est partout – Peril is all around as written in the booklet.
Rock and pop, rococo bahaus, fed from multiples influences (Krafwerk, Elli & Jacno) La Femme just want to please you. Generous and welcoming, she stretches you her white hand in the dark, if you grasp it, it could be the shiver of you life.