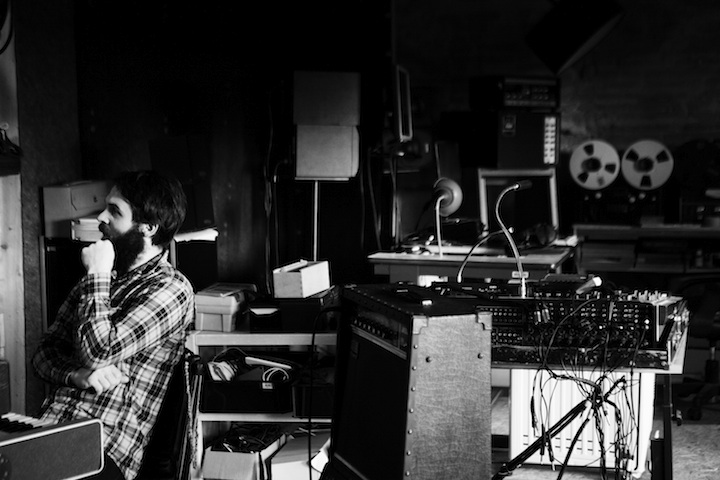 Avec « Cerf biche et faon », Julien Gasc nous guide et nous sème dans la forêt de ses émotions, jouant avec sa voix éthérée et des instrumentations lyriques, sur fond de doux crépitement de cigarettes lo fi.
Urgence de boucler les titres, coûte que coûte, une chanson par nuit dans un studio au cœur des étoiles avant une tournée en Amérique du Sud, l'album contient en lui une nécessité vitale : écrire, guérir, Jouir !
Il devait tourner une page de sa vie, d'un flot, d'un « jet d'eau », répétitions des heures durant, ouvrant ses sillons aux personnes chères pour des rendez vous insonorisés, en musique et en fumée.
Premier album solo après de riches collaborations ( Aquaserge, Stereolab, April March, Katerine, Burgalat…), Julien Gasc y dévoile plus intimement le « diamant » qu'il recèle (la pierre de l'artiste selon lui), pour le faire vibrer sur le shellac.
Chansons résolument pop pour la plupart, ou nourries par son énergie d'adolescent, sa mâturité artistique et technique n'étouffe en rien la fraîcheur et la spontanéité réinventées dans l'instant de l'enregistrement.
Au fil du disque, sa barbe raspoutinienne nous séduit, nous pique, nous hérisse, nous caresse…Comme le disait Arthur Cravan, « (…) Je suis tous les animaux, toutes les choses, tous les hommes(…) » , Julien Gasc serait il à la fois cerf, biche et faon ?
A l'écoute, on ressent toute la tendresse, la violence, et l'innocence de son humanité, on navigue avec lui sur les 4 pistes du détachement, de la fatigue, de la colère, de l'indolence…
…et, tel un marchand de sable musical, il vient, délicat, nous border sur les dernières chansons, berceuses plaids à la douceur angora.
//////////////////////////////
With "Cerf Biche et Faon" (Stag, Deer and Fawn), Julien Gasc guides and plants us in the forest of his emotions, playing with his ethereal voice and lyrical instrumentations, against the gentle crackle of lo-fi cigarettes.
There is an urgency to wrap up the tracks at all costs, with one song per night in a studio in the thick of the stars before a tour in South America, the album holds its own vital necessity: write, heal, Climax!
He had to turn a page, with an outpouring, a fountain, rehearsals lasting for hours, opening his furrows to close friends for soundproof rendezvous amid music and smoke.
This is his first solo album after many rich collaborations (including Aquaserge, Stereolab, April March, Katerine, Burgalat) and Julien Gasc more intimately reveals here the "diamond" he harbours (the artist's stone, according to him), having it vibrate on the shellac.
These are resolutely pop songs for the most part, or fueled by his adolescent energy, his artistic and technical maturity does nothng to smother the fresh spontaneity he reinvents in the moment during recording.
As the album advances, his Rasputin beard seduces us, pricks us, bristles and caresses us…
As Arthur Cravan once said, "I am all animals, all things, all people (…)," might Julien Gasc be stag, deer and fawn all at once?
As we listen, we feel all of the tenderness, violence, and innocence of his humanity, we navigate with him over the 4-tracks of detachment, tiredness, anger, indolence…
… and, like a musical sandman, he delicately approaches to tuck us in on the last songs, plaid lullabies of angora softness.