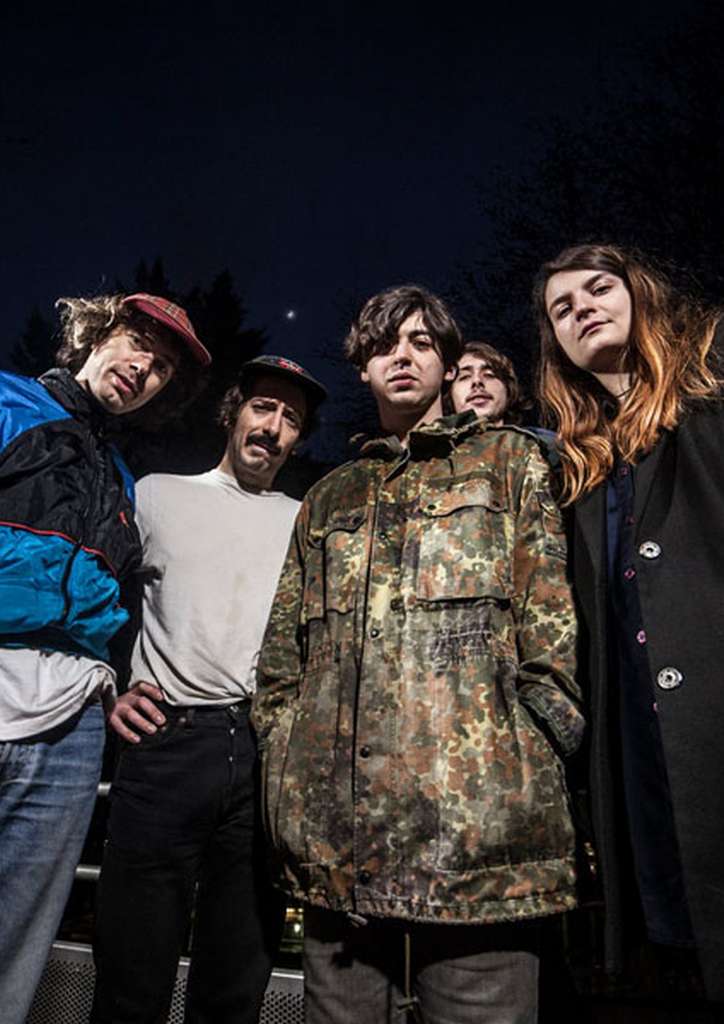 ENGLISH TEXT BELOW
Vous vous souvenez de ces groupes américains bouffés par les mites signés sur des labels injoignables du Midwest qui balançaient, au milieu des années 1990, des refrains à faire pâlir les Smashing Pumpkins avec le son le plus pourri de l'histoire de l'électricité ? Non, peut-être pas. Eh bien sachez que Bryan's Magic Tears aurait très bien pu être l'un d'entre eux. Ce projet, lancé il y a 4 ans par Benjamin Dupont (Dame Blanche) et dans lequel on croise des membres et ex-membres de La Secte Du Futur et Marietta, a en effet tout pour occuper ce créneau, plus tellement usité ces temps-ci, d'ailleurs : mélodies toxiques, guitares alternant fouet et caresse, son fantômatique et nom alambiqué faisant référence à un obscur dealer d'acide parisien.

Mais attention : pas question ici ni d'un vain exercice de style mis sur pied par des gamins surdoués fantasmant une époque qu'ils ont raté, ni d'une triste réunion revivaliste de vieux crabes toujours pas remis d'avoir atteint les 40 ans. Si on pense aux 90's lorsqu'on écoute Bryan's Magic Tears, ce n'est pas à cause du son – pour le coup, très proche de celui de leurs compagnons de tournée, Le Villejuif Underground et Jessica93 –  mais d'un état d'esprit propre à l'époque et à un moment précis de l'adolescence, celui où s'effaçaient doucement les dernières illusions qu'avaient laissé entrevoir la chute du mur de Berlin et où commençaient à s'amonceler les sombres nuages de la première guerre du golfe, ce spleen insouciant et blasé, dépeint à la perfection dans les films de Gregg Araki, dans certains morceaux de Sebadoh, Beat Happening ou Nirvana, ou dans cette fameuse phrase extraite du « Romeo Had Juliet » de Lou Reed : « It's hard to give a shit these days » – « Difficile d'en avoir quoique ce soit à foutre, aujourd'hui ».
Cet état d'esprit on le retrouve pur, intact, limpide, chez Bryan's Magic Tears, sans pose ni cynisme, et au service de titres insensés, véritables hits brumeux forgés dans un feu triomphant, qui ont fait de leur premier album, paru fin 2016 sur XVIII Records, un des plus beaux disques issus de la scène indépendant française saison 2010-2020. Et qu'on retrouve aujourd'hui, plus mordant et précis encore sur 4 AM collection de tubes insensés – « Ghetto Blaster », « CEO », « Changes », on pourrait citer tout l'album en vérité. Un disque taillé pour ces journées de printemps claires et fraîches où tout semble tout à coup plus vif, plus clair, plus intense. Un disque qui rappelle ce que c'est de louper le dernier train de la journée et de se rendre compte qu'il nous manque tout juste de quoi s'acheter un billet pour celui du lendemain. Un disque évident, indestructible, lunaire, romantique, arrogant, flegmatique et désabusé. En bref, un disque pour lequel on aimerait avoir de nouveau 18 ans. Pour combien de groupes serait-on capable de dire ça, aujourd'hui ?
Lelo Jimmy Batista
////////////////////////////////////////////////////////////
Remember those moth-eaten American bands on unreachable Midwestern labels that, in the mid-1990s, would drop choruses that would make the Smashing Pumpkins green with envy, with the crummiest sound in the history of electricity? Maybe not. Well, Bryan's Magic Tears could have been one of them. This project launched four years ago by Benjamin Dupont (Dame Blanche) and in which members and ex-members of La Secte Du Futur and Marietta can be seen, indeed has it all to occupy this niche, which is not so used anymore/has quite fallen into disuse these days, by the way: toxic melodies, guitars switching between whiplash and caress, some ghostly sound and a convoluted name that refers to some obscure Parisian acid dealer.
But wait/don't be mistaken: it's not about a vain stylistic exercise put together by some gifted kids fantasizing a time they missed , nor a sad revivalist meeting of old farts who haven't got over/who are still having trouble with reaching 40 years old yet. If listening to Bryan's Magic Tears makes one/you think of the 90s, it's not because of the sound – which, as it happens, is very close to that of their tour partners Le Villejuif Underground and Jessica93 – but because of a state of mind peculiar to the time and to a particular moment in adolescence, in which the last illusions glimpsed by the fall of the Berlin Wall were fading, in which the dark clouds of the first Gulf War were piling up; this carefree, jaded spleen, perfectly depicted in Gregg Araki's films or in some songs by Sebadoh, Beat Happening or Nirvana – or in this famous line from Lou Reed's "Romeo Had Juliet": "It's hard to give a shit these days ".
A state of mind found pure, intact, limpid, in Bryan's Magic Tears music, without posture or cynicism, serving insane titles, real hazy hits forged in some triumphant fire, which made their first album, released late 2016 on XVIII Records, one of the most beautiful records (to come out) from the French independent scene in the 2010-2020 season. And we find it again/rediscover it today, even more intense and precise on xxxx, collection of insane hits – "Ghetto Blaster", "CEO", "Changes", we could mention the whole album in truth. A disc cut for those clear and cool days of spring where everything suddenly looks brighter, clearer, more intense. A record that recalls what it is to miss the last train of the day and realize that we are just missing enough to buy a ticket for the next day. A disc evident, indestructible, lunar, romantic, arrogant, phlegmatic and disillusioned. In short, a record for which we would like to be 18 years old again. For how many groups would we be able to say that today?