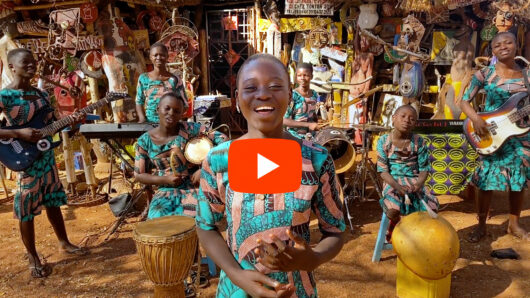 "Oh femme, femme africaine
Oh femme, femme béninoise
Femme noir, lève toi, ne dort pas
Oh femme noir, lève toi ne dort pas
Tu peux devenir, président de la république
Tu peux devenir, premier ministre du pays
Lève-toi, il faut faire, quelque chose
Femme africaine, soit indépendante
Le pays a besoin de nous, allons à l'école
L'Afrique a besoin de toi, il faut travailler
Le monde a besoin de nous, levons nous allons défendre
Femme africaine, soit indépendante »
Star Feminine Band "Femme Africaine"
Le Star Feminine Band est un groupe de 7 filles, âgées de 10 à 17 ans, originaires de Natitingou, une ville isolée du nord du Bénin. En 2016, elles ont répondu à un appel de la radio locale pour participer à une formation musicale afin de monter un orchestre. Une expérience préalable n'était pas requise et c'est tant mieux car aucune des filles n'avaient encore vu ou approchée une guitare, un micro ou une batterie auparavant. En seulement deux ans, avec l'aide du musicien local André Balaguemon, les filles ont rapidement perfectionné leur répertoire, se sont liées comme des sœurs (deux d'entre elles le sont) et ont répété régulièrement dans leur studio qui leur a été prêté par le maire de Natitingou. C'est ainsi qu'est née l'idée d'enregistrer quelques morceaux, de manière totalement imprévue, avec l'aide d'un Français, Jeremy Verdier, qui travaillait alors sur place en mission humanitaire. Cette chanson, Femme Africaine, est la deuxième chanson à sortir de ce disque, une incroyable combinaison de styles musicaux africains – du highlife à la rumba congolaise – avec une touche de psychédélisme et de rock, le tout avec un dynamisme et une liberté qui ne pouvaient être créés que par un groupe de jeunes filles, Star Feminine Band "Femme Africaine" parle de la nécessité et du devoir d'éduquer les filles et de leur permettre de devenir une femme indépendante.
////////ENGLISH///////////////////
Star Feminine Band are a group of 7 girls, aged between 10 and 17 years old, from Natitingou, a remote town in the north of Benin. In 2016 they responded to a local radio call out to take part in a series of music training sessions. Previous experience was not neccesary. Indeed, none of the girls had come close to a guitar, microphone or drumkit before. In just two years, with tutoring by local musician André Balaguemon, the girls rapidly honed their craft, bonded like sisters (2 of them are) and were rehearsing regularly in their studio space presented to them by the local mayor of Natitingou. And so, completely unplanned, came an idea to record these impressive musical moments and with the help of a Frenchman Jeremy Verdier, working locally at the time. This song Femme Africaine, is the second song to be released from that record, an incredible combination of African musical styles – from highlife and Congolese rumba – with a dash of psychedelia and rock, all with a dynamism and freedom that could only be created by the youthful and all-girl group, Star Feminine Band "Femme Africaine" speak about the need and duty to educate girls and allow them to become some independent woman.
///////////////////////////
Réalisation : JB Guillot
Montage: Matthieu Brunel