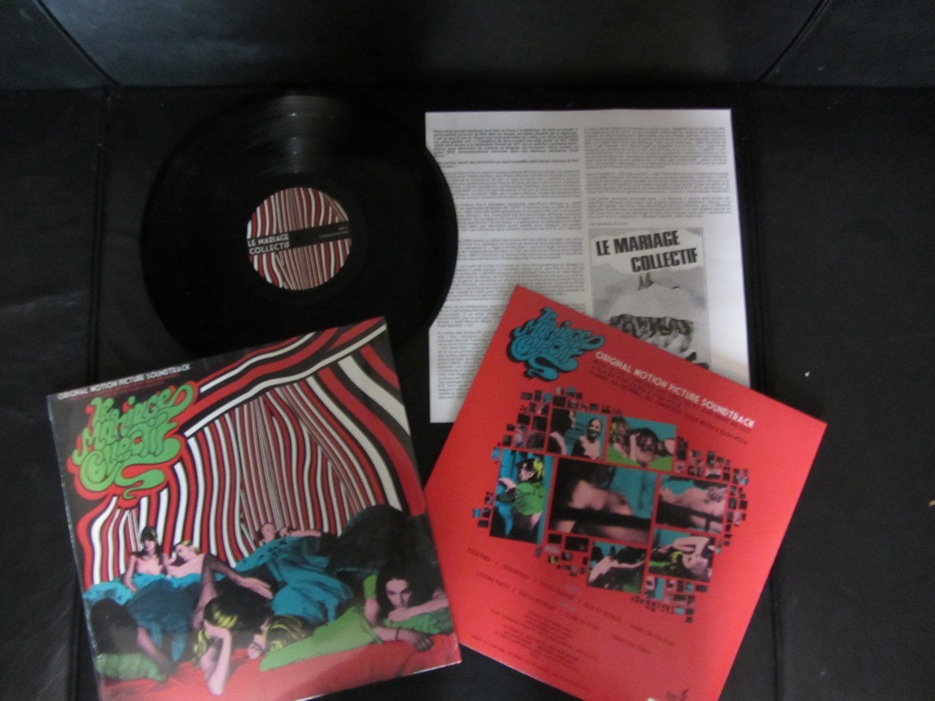 FOR THE FIRST AVAILABLE, UNISSUED EVERYWHERE BEFORE, THE LOST SOUNDTRACK FOUND IN A PARISIAN GARAGE DUMP.
 In our modern world, everything ends up – or will end up – in the garbage dump or in a museum. Occasionally, objects make it to the museum by way of the dump. The record you are holding is one of those objects. With the exception of two songs that already came out on a 45, the material on this disk was destined to remain in the trash. In 1971, a very few copies were made on acetate in an attempt to attract the interest of record labels. One was miraculously found in July, 2010 in a Paris garbage dump (quai d'Issy).
In the mid-60s, Jean-Pierre MIROUZE was hired to work on Jean-Christophe Averty's very popular and very "Pop" program "Dim Dam Dom." Mirouze was in charge of the show's soundtrack.
In 1971, Hervé Lamarre, who had just finished shooting the film "Le Mariage collectif" in Sweden, thought of using the "Dim Dam Dom" team to create the musical score for his film. This film, which claims to try to justify open relationships and sexual freedom, is actually a botched second-rate picture that combines evocations of the Beat Generation, hippie idealism and softcore nudity, in a work that is – quite frankly – uninteresting. Jean-Pierre Mirouze, because of his association with "Dim Dam Dom," was expected to bring a trendy touch to the project.
Seeking to round out funding for what was, in essence, a commercial job, Mirouze went to Bagatelle, a Paris publisher specializing in film music, among other genres. While he was there, he played the melody of "Together" for them. These few notes were enough to convince the publisher to finance the recording of the soundtrack. Auditions were held, and Barry Green was recruited to sing the theme song. The recording was wrapped up in a week by a top-flight group of musicians, including Jean-Pierre Sabar, a talented organist who would be instrumental in the future success of the song "Sexopolis."
 Nine tracks were produced during these sessions. Bagatelle then started looking for a record label to issue the soundtrack album. In an attempt to interest record companies, a handful of test pressings were made, solely in the form of acetates. The songs on this album come from one of these acetates, found, in July, 2010, in a garbage dump. We could not have invented a story this strange. But let's get back to the film. It turned out to be a failure, and Bagatelle had a difficult time selling the soundtrack project. Finally, AZ (a French label) agreed to put out a 45 with "Together" on side A, billed as the "hit" from the film, and "Sexopolis" on the B side as an instrumental filler. The 45′s release went completely unnoticed, of course. It was rediscovered in the early 2000s, thanks – ironically – to the song "Sexopolis," and became the Holy Grail we know.
MORE INFOS AND LISTEN  : HERE