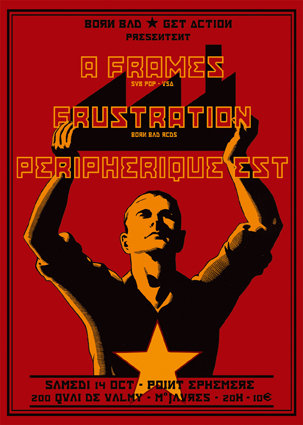 "One of the few great new American rock records"   (Byron Coley/Thurston Moore)
Guitares Atonales et déglinguées, rythmiques robotiques et désenchantés pour répertoire Lo Fi crasseux sous haute tension. Un chant déshumanisé pour parfaire le tout, et  vous obtenez la  BO post apocalyptique et électrique idéale de cette période de trouble.
Les A-FRAMES sont de Seattle, jouent en trio, ont fait leur armes dans de nombreux autres groupes comme INTELLIGENCE, THE DIPERS, ou UNATURAL HELPERS
Bref, Les 2 albums que Born Bad vous propose  sont déjà sortis confidentiellement aux Etats-Unis (500 ex) en 2002 et 2003.  Épuisés de longue date, ils sont ainsi de nouveaux disponibles.